VoteRiders Partner Organizations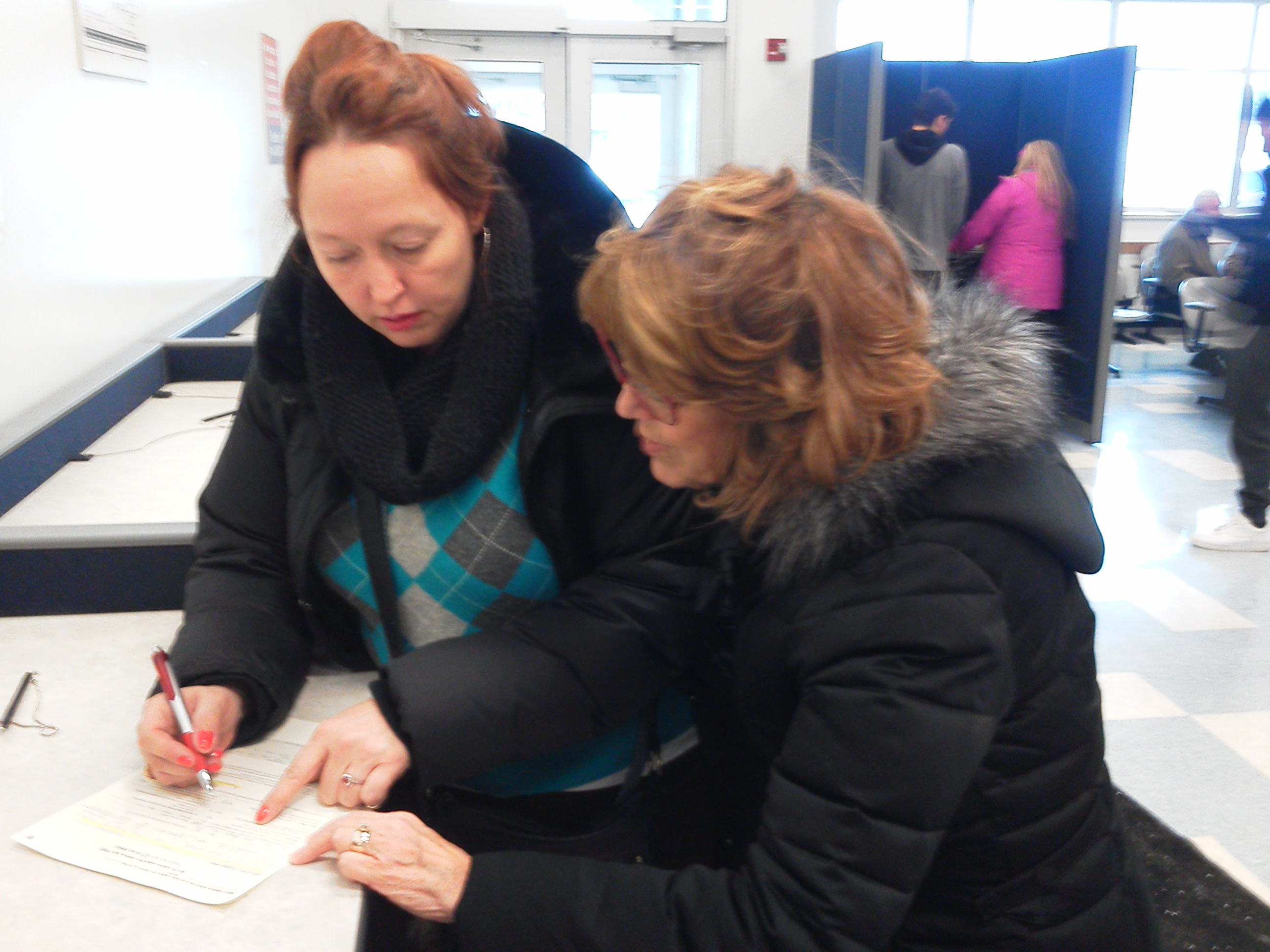 Partner Organizations support VoteRiders' mission and actively collaborate with us to accomplish it. If you would like more details about becoming a Partner Organization, please contact us.
Some of the ways VoteRiders collaborates with Partners and other organizations:
Educating and advising voters and other stakeholders about voter ID laws.
Collaborating in organizing Voter ID Clinics and community events like Voter ID Month, Week or Day.
Providing voter ID experts to answer questions and provide assistance in securing ID to vote via or national toll-free Voter ID Hotline (844-338-8743), VoteRiders.org, or info@voteriders.org.
Reimbursement for the cost of necessary legal documents, e.g. certified copy of a birth certificate and records of name change(s) such as a marriage license, for low-income voters.
Providing text, graphic, questionnaire and video materials online.
Trainings for Voter Advocates, Attorney Voter Advocates and organizations on how to obtain voter ID and required supporting documents.
Working with Attorney Voter Advocates and elected officials' staff to help voters secure necessary documents.
Training canvassers for door-to-door and phone bank voter registration and Get Out the Vote (GOTV) drives: explaining the voter ID law, how to identify voters who need help and connect them with VoteRiders.
Training staff members, poll workers, Deputy Voter Registrars and volunteers.
Tabling at community events.
Providing VoteRiders Voter ID handouts and Voter ID Info wallet cards for voter registration and GOTV drives.
Facilitating local VoteRiders Voter ID Coalitions - which we've found to be a really effective way to help voters - bringing together on-the-ground organizations, local election and government officials, community institutions, businesses (like taxi companies), etc.
National Partners
Election Protection Coalition
The Lawyers' Committee for Civil Rights Under Law is the lead partner of the non-partisan Election Protection Coalition, of which VoteRiders is also a partner. It was formed to ensure that all voters have an equal opportunity to participate in the political process.
The coalition features the Election Protection Hotline: 1-866-OUR-VOTE (866ourvote.org), administered by the Lawyers' Committee, and 1-888-Ve-Y-Vota (http://veyvota.yaeshora.info), administered by the National Association of Latino Elected and Appointed Officials Education Fund. These and other coalition resources provide comprehensive voter information and advice on how citizens can make sure their vote is counted.
VoteRiders' other national partner organizations:
The Association of Pro Bono Counsel is a mission-driven membership organization of over 180 attorneys and practice group managers who run pro bono practices in over 100 of the world's largest law firms.
Brennan Center for Justice at NYU School of Law is a nonpartisan law and policy institute that seeks to improve our systems of democracy and justice. The Center works to hold our political institutions and laws accountable to the twin American ideals of democracy and equal justice for all.
Campaign Legal Center works to improve our democracy and protect the fundamental right of all Americans to participate in the political process. CLC is home to the premier election law experts in the nation and aims to ensure that every American has the right to fully participate in shaping the laws and policies that directly impact their lives.
Campus Election Engagement Project helps America's colleges and universities get as many of their 20 million students as possible to register, volunteer in campaigns, educate themselves, and turn out at the polls.
Common Cause is a nonpartisan grassroots organization dedicated to upholding the core values of American democracy. They work to create open, honest, and accountable government that serves the public interest; promote equal rights, opportunity, and representation for all; and empower all people to make their voices heard in the political process.
The Fair Elections Legal Network (FELN) is a national, nonpartisan voting rights and election reform organization whose mission is to remove barriers to registration and voting for traditionally underrepresented constituencies and to improve overall election administration through administrative, legal and legislative reform as well as provide legal and technical assistance to voter mobilization organizations. FELN employs a staff of attorneys and advocates whose mission is to eliminate barriers to voting and improve election administration across the United States.
National Voter Registration Day wants to make sure everyone has the opportunity to vote. On Tuesday September 26, 2017 volunteers and organizations from all over the country will "hit the streets" in a single day of coordinated field, technology and media efforts. National Voter Registration Day seeks to create broad awareness of voter registration opportunities to reach tens of thousands of voters who may not register otherwise.
People For the American Way Foundation was founded in 1981 to promote the values and ideals that sustain a free and diverse society, to safeguard the constitutional principles that undergird American democracy, and to strengthen the public institutions that are charged with making those values and ideals real in the lives of all Americans. Our vision is a vibrantly diverse democratic society in which everyone is treated equally under the law, given the freedom and opportunity to pursue their dreams, and encouraged to participate in our nation's civic and political life.
Rock the Vote is the largest nonpartisan, non-profit organization in the United States driving young people to the polls. Fusing pop culture, politics, and technology, Rock the Vote works to mobilize the millennial voting bloc and the youth vote, protect voting rights and advocate for an electoral process and voting system that works for the 21st century electorate.
National Collaborating Organizations
Advancement Project
Alliance for Youth Action
America Votes
American Association of People with Disabilities
Athletes for Impact
ElectionRAVE
MALDEF
Mi Familia Vota
Movement Voter Project
National Urban League
NextGen Climate
Nonprofit VOTE
State Voices
Student Debt Crisis
United Steelworkers International
Young Invincibles
Alabama

ACLU of Alabama works to defend the individual rights and personal freedoms guaranteed to us by the Constitution and the Bill of Rights. It is the Alabama affiliate of the national ACLU, a non-profit, non-partisan organization.
Legal Services Alabama is a public interest law group representing low income Alabamians who need civil legal services. LSA has seven full-time offices serving all 67 counties.
Georgia

Georgia WAND is an independent grassroots, woman-led organization that seeks to direct women's voices into a powerful movement for social change.
RuralVotes works to make sure rural America and urban America stay connected.
Missouri

Missouri Voter Protection Coalition, consisting of three dozen organizations that include civil rights advocates, faith leaders, community groups, the labor movement and legal experts, focuses on voter ID laws in the state.
Beyond Housing is a comprehensive community development organization based in the Normandy Schools Collaborative in north St. Louis County. From purchasing a home to health, education, jobs, and economic development, Beyond Housing offers holistic resources and support to help communities become better places to live.
North Carolina

North Carolina State Board of Elections: the state agency charged with overall responsibility for administration of the elections process and campaign finance disclosure in North Carolina. The office of the State Board of Elections works in conjunction with County Board of Elections offices to ensure that elections are conducted lawfully and fairly.
RuralVotes works to make sure rural America and urban America stay connected.
Texas Collaborating Organizations
Chinese Community Center, Common Cause Texas, Harris County AFL-CIO, Holy Name Catholic Church, Houston Food Bank, Houston Housing Authority, Houston Peace and Justice Center, League of Women Voters Houston, Metropolitan Transit Authority of Harris County [Houston METRO], National Association of Latino Elected and Appointed Officials [NALEO], Neighborhood Centers Inc., SEARCH Houston, S.H.A.P.E. Community Center, Star of Hope, St. John's United Methodist Church - Downtown, St. Patrick's Catholic Church, Texas Campaign for the Environment, Texas Organizing Project Education Fund, Texas Southern University, Wheeler Avenue Baptist Church.
Wisconsin Collaborating Organizations
Center for Veterans Issues
Christ Church Milwaukee
Common Cause in Wisconsin
Disability Rights Wisconsin
Dryhootch
Guest House of Milwaukee
Incarnation Church
Literacy Services of WI
League of Women Voters of Dane County
Metropolitan Church
Milwaukee Homeless Veterans Initiative
NAACP Dane County Branch
Porchlight
Society's Assets
St. Marks Church
South Central Federation of Labor
Urban League of Greater Madison
Veterans for Peace
VETS Place Central
YWCA Madison