Order Voter ID Info Cards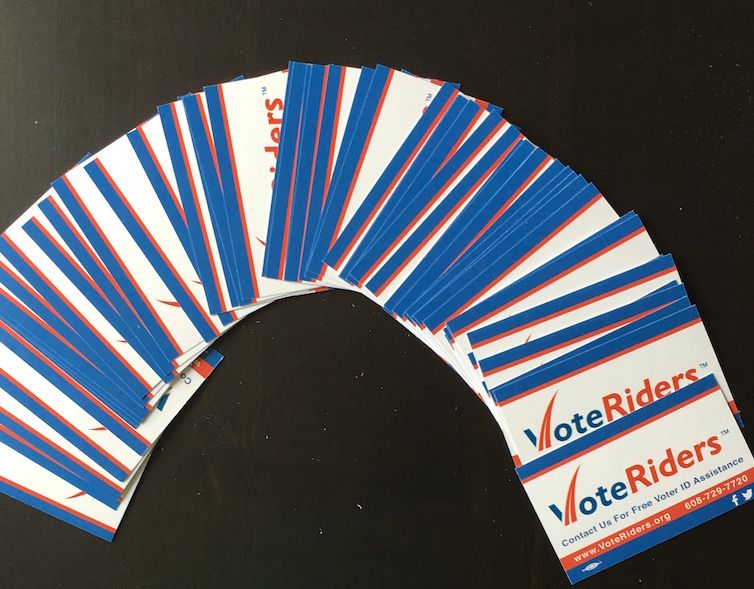 You can order VoteRiders' handy wallet-sized Voter ID Information cards using this form! We will print & ship cards to registered 501(c)(3) organizations for free - all you have to do is share information about where, when, and to whom they are distributed. Everyone is welcome to download and print cards for free HERE.
The cards are available in English and in Spanish for all 50 states and DC. These cards are a unique and valuable resource - because they're precisely accurate and clear – listing what IDs are required and providing VoteRiders' toll-free Helpline number and email address.
The cards are useful:
When canvassing or engaged in voter registration drives or Get Out The Vote outreach in your state;
To refer voters with any voter ID questions, or those in need of assistance to secure their ID, to VoteRiders' expert-staffed Voter ID Helpline - 844-338-8743;
For voters to use as a handy reference at their polling place in case they encounter misinformed poll workers.
*All fields are required. We will send the cards for the state you indicate in the shipping address field, unless you let us know that you need a different state card in your distribution plan.*
For organizations, groups and individuals who are not part of a 501(c)(3) nonprofit, VoteRiders Voter ID Information wallet cards can be ordered directly. Call Adriana Leon at PrintDirtCheap.com - 1-866-811-4266.