When we do good, we feel good. That's part of why the Holiday Season fills us with warmth - we're thinking about the people and causes that are important to us, and about how we can give gifts that are meaningful and make the world a better place.
No matter which cause you choose to support, research shows that charitable giving can also have health and wellness benefits. Of course, we at VoteRiders are partial to democracy issues and voting rights in particular!
A donation to VoteRiders will not only ensure that more Americans will be able to exercise their democratic right to vote, you will be deeply rewarded...knowing that your gift will be effective. Here are some tips to make your charitable giving go further.
Find a charity worthy of your money.
VoteRiders is a registered 501(c)(3) organization. We have achieved a Bronze Seal of Transparency with Guidestar, which means VoteRiders has demonstrated a commitment to transparency and accountability. Check out our Guidestar Profile.
Check if your employer will match your donations.
Does your employer have a charitable donation matching benefit? Many companies encourage community involvement by matching donations to the same nonprofits to which their employees have contributed. These programs have become quite widespread, but many donors have not heard of them or aren't aware of their own match eligibility.
You can double-or even triple-the impact of your gift to VoteRiders by searching our database of companies with matching gift programs. We make it easy for you to assess your eligibility and find the forms and instructions for your employer's corporate giving program.
Make a charitable distribution directly from your IRA.
A Qualified Charitable Distribution (QCD) from an IRA is an option for those who are 70½ and older and must take a taxable required minimum distribution (RMD) each year. This necessity can be turned into a tax advantage by making a direct contribution from your IRA to a qualified charitable organization like VoteRiders. Ask your broker (or whomever manages your Qualified Retirement Plan or IRA) to send a check directly to VoteRiders.
The advantage is that the donation lowers your Adjusted Gross Income by the amount of the contribution, which may lower your tax bracket. Keeping your taxable income lower may reduce the impact to certain tax credits and deductions, including Social Security and Medicare. Additionally, if you don't itemize deductions, it still lowers your taxable income. While the contribution doesn't qualify for a charitable deduction, it's not considered taxable income.
Donors should consult with their tax advisors to understand how retirement funds may be used for charitable giving for their situation.
Donate while shopping online.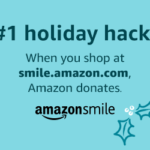 As companies become increasingly socially conscious, there are more and more ways to shop and do good at the same time.
VoteRiders participates in Amazon's AmazonSmile program, which donates 0.5 percent of the cash you spend on everyday and holiday shopping to a charity you select.
Maximize your tax savings.
Contributions to VoteRiders are fully tax-deductible. Check out IRS guidelines before giving, and save any receipts for when it comes time to file your taxes. Because of recent tax law changes with higher standard deductions, many taxpayers won't be able to claim a tax deduction for donations. Some donors choose to bundle two or more years of their annual giving budget and donate a larger amount in order to be eligible to take an itemized tax deduction.
A donor-advised fund (DAF) is another easy tax-advantaged means of giving to charity.
Check with your tax advisor or broker to understand how to make the most of your charitable gifts this year.
We are deeply grateful to all of our supporters for making our work possible! It is wonderful to be part of such a generous community who believe in the power - and importance - of democracy. With a smart philanthropic strategy this giving season, your donations to VoteRiders can protect the right to vote now and in the future.
Information for Tax Advisors, Estate Attorneys and Administrators
VoteRiders tax ID number is: 45-5081831
Our address and contact information:
171 Pier Avenue, #313
Santa Monica, CA 90405
844-338-8743 info@voteriders.org