VoteRiders is the nation's most trusted source of non-partisan voter ID information. We welcome media requests.  If you would like information about voter ID, or to schedule an interview, please contact VoteRiders@SunshineSachs.com or 1-844-338-8743. We will quickly reply to your request.
Some of VoteRiders' Press Coverage
La odisea del voto en EEUU: cómo el sistema discrimina a minorías, ancianos y pobres
(The voting odyssey in the United States: How the system discriminates against minorities, older people and the poor)
4/24/2018
Carlos Perez Cruz reports on voting restrictions in the US for the Madrid-based magazine El Confidencial.
Muchos estados convierten el derecho al voto en una carrera de obstáculos. Negros, latinos y otros colectivos son las principales víctimas de unas leyes que desprenden un sesgo discriminatorio.
(Many states make the right to vote an obstacle course. Blacks, Hispanics and other groups are the principal victims of laws that generate a discriminatory bias.)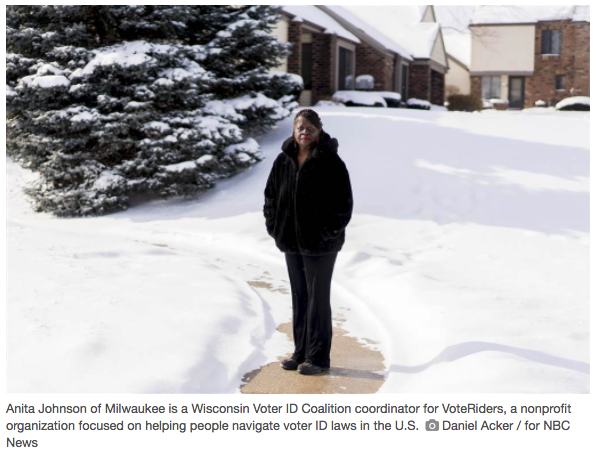 Restrictive voter ID laws are no match for this group
2/10/2018
Dartunorro Clark of NBC News reports on VoteRiders work to ensure voters have whatever ID they need to vote in 2018.
Do You Need Help Getting Your Voter ID? Call Vote Riders!
1/24/2018
Thom Hartmann interviewed Kathleen Unger, Founder and President of VoteRiders, about the work of the organization and plans to put volunteers to work helping voters in 2018. 
Disenfranchised because of voter ID bureaucracy? VoteRiders can help
12/6/2017
Interview with Kathleen Unger by Patt Morrison, LA Times Opinion columnist
In Alabama next week, and across the United States next November, voters — even voters who are old hands at voting, who've cast ballots for years — may find themselves standing at a polling place being told that this time, they don't have the right identification to vote. While legislatures and lawmakers and lawyers do battle over this supposed specter of voter fraud, Kathleen Unger's Santa Monica-based national nonprofit is skipping all that and going right to saying, "You need a particular ID to vote? Fine, we'll help you get it."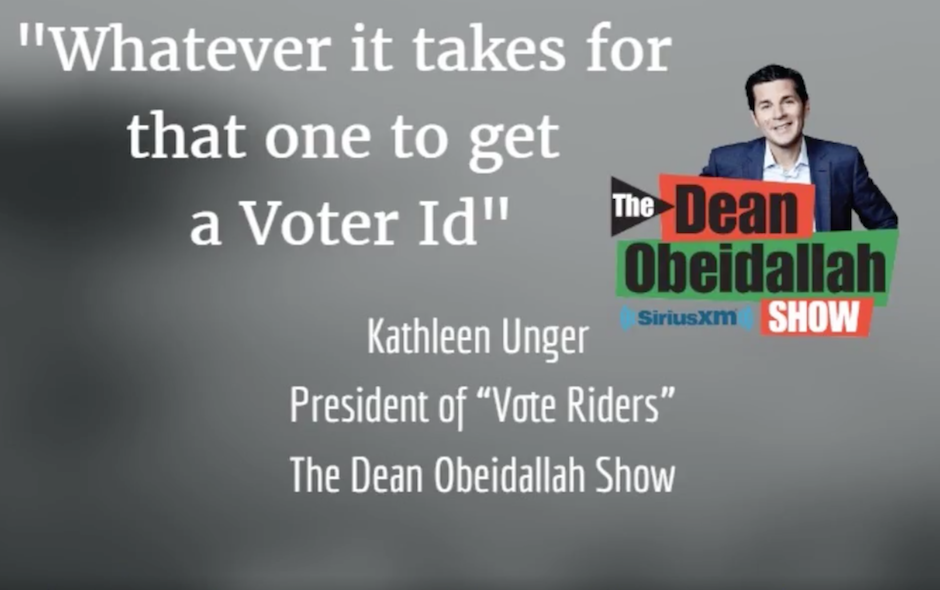 Kathleen Unger of VoteRiders
by The Dean Obeidallah Show

For the Record with Neil Heinen 
3/23/2016
VoteRiders' Molly McGrath interviewed by Neil Heinen of WISC-TV about helping voters get their ID in preparation for the primary election.
In Wisconsin, path to the voting booth now requires a stop at the DMV
4/1/2016
John Yang of PBS NewsHour follows VoteRiders' Anita Johnson as she assists voters getting their ID.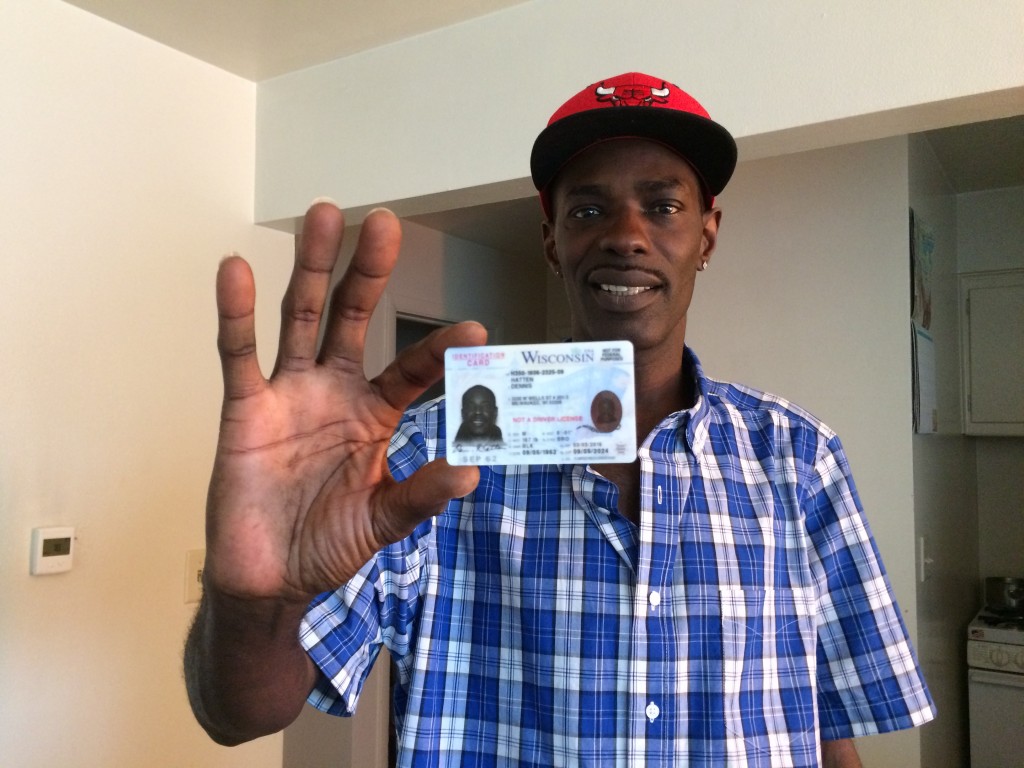 Veteran Almost Disenfranchised By Wisconsin Voter ID Says It's Like A Poll Tax
4/2/2016
Alice Ollstein of ThinkProgress writes about the obstacles veteran Dennis Hatten had to contend with to get his voter ID - 6 months of work with Anita and a volunteer lawyer - to fix a mistake on his birth certificate.
Organization helps people with voter ID law.
WISC-TV 3 Madison
4/4/2016
Detailed profile of VoteRiders' and our Dane County Voter ID Coalition's efforts to help voters go to the DMV to get their IDs.
'Desperate times for democracy' in Wisconsin
MSNBC
4/4/2016
Zachary Roth reviews key voting issues in Wisconsin. Interviews with 2 people who got their ID with help from VoteRiders. Touches on lack of voter education & the high barriers for students.
300,000 Could Be Impacted By WI Voter ID Law
4/5/2016

All In With Chris Hayes

The quirks of Wisconsin's newly implemented Voter ID law have been confusing for some at the polls. Anita Johnson of VoteRiders joins Chris Hayes.
Wisconsin's Voter ID Law Caused Major Problems at the Polls Last Night
4/6/2016

 The Nation

Ari Berman summarizes problems with long lines for students and other election issues. Features an interview with Dennis Hatten, one of our most complex ID cases.