★ NEED HELP GETTING AN ID TO VOTE?
We can answer your questions and provide expert assistance. Our services are 100% free, including obtaining documents (such as birth certificates, change of name records) and arranging rides to and from ID-issuing offices.
Contact us at info@voteriders.org or 844-338-8743
★ VOLUNTEER
Take action to protect the right to vote, whether you have just a minute or several hours a week to volunteer.
★ DONATE
Make a contribution or start your own fundraiser to ensure every eligible voter has the ID - and confidence - to cast a ballot that counts in 2020!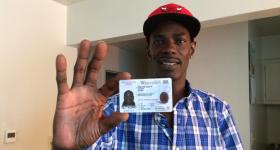 DENNIS' VOTER ID STORY
Marine veteran Dennis Hatten was initially denied an ID to vote by the Milwaukee DMV because his birth certificate had a mistake. It took 6 months of persistence with VoteRiders' Anita Johnson before Dennis was finally able to vote.


Without consistent communication from the university about voting information up ...

Read the full article

Studies have shown that all forms of voting fraud are extremely rare in the Unit ...

Read the full article

Wisconsin voters will face a choice between protecting their health and exercisi ...

Read the full article