Adina's Voter ID Story: Frustration At The Wisconsin DMV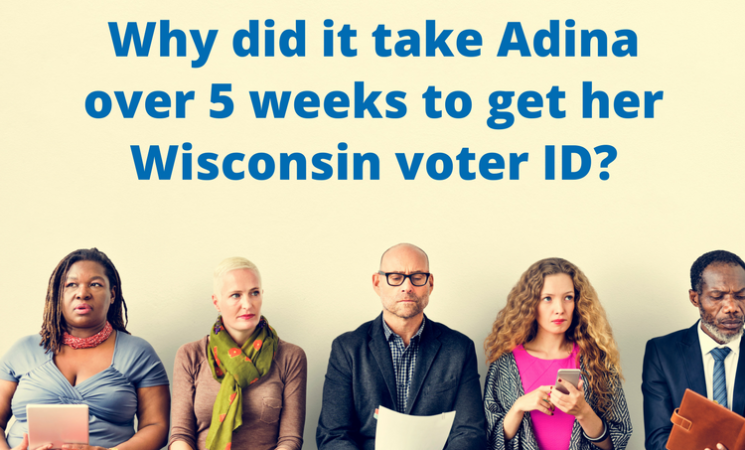 – by Anita Johnson, VoteRiders' Wisconsin Voter ID Coalition Coordinator
Last month I had the opportunity to help a young voter obtain ID to vote in Milwaukee. The case illustrates some of the common obstacles and frustrations that voters, especially African-American, face when trying to secure their constitutional right to vote.
Anita Abraham posted on Facebook that she was having a hard time with the DMV assisting her daughter, Adina, in obtaining a State ID to vote.  A concerned voter posted Anita's concern to me. That evening, I reached out to Anita to see if her daughter's problem had been solved and asked what I could do to assist her.
Adina had her birth certificate and proof of residence, but she did not have a Social Security card. Adina recently moved to Milwaukee from Chicago, where her wallet had been stolen.
Of course, you need government-issued photo ID to secure a replacement social security card.
Anita and her daughter had taken Adina's documentation to the DMV several times to secure a Wisconsin photo ID, only to be told that the DMV could not help them. DMV staff made unprofessional remarks to them, such as,
I suppose that you want this ID for free."
In fact, Wisconsin law and court rulings require that the DMV issue free state IDs for voting, which can then be used for other purposes as well. During one visit, the Abrahams were told by a DMV staff member to have a seat. They waited for many hours until closing time, when they were told no one could help them.
As I was talking with Anita on the phone, Adina came in and said that she had received a temporary ID in the mail that day. I am sure that there was a discussion at the DMV, and the clerks were told that they had to at least give Adina an ID good for 180 days so she could vote.
I asked about the other types of documents Adina had in her possession, since she now needed to apply for a replacement Social Security card in order to receive a permanent WI State ID. I learned that she has Medicare coverage. So I advised Adina to take her DMV-issued temporary ID, her birth certificate, her Medicare card and any other proof of ID to the Social Security office, and to let them know her wallet was stolen. I hoped that would be enough to replace her Social Security card.
This worked, and Adina received her new Social Security card in the mail. She was then able to go back to the DMV and obtain her State ID. The process for Adina to secure her ID took over five weeks.
Adina felt that her rights as an American citizen were violated by this process, and did not want to be interviewed directly about the ordeal. Her mother Anita was shocked and disappointed by the rude and unaccommodating behavior by clerks at the DMV office.
This is not the first time VoteRiders has observed problems with Wisconsin DMV staff giving inconsistent, incomplete or incorrect information to citizens applying for an ID to vote. In September 2016, our documentation of Zack Moore's Voter ID case resulted in a federal judge ordering the DMV to immediately re-train staff so that voters would have access to ID documentation in time to vote.
If you or any of your friends and neighbors would like assistance with the process of obtaining ID to vote, our Wisconsin Voter ID Helpline is 414-882-8622.