AZ Grad Student Can Vote Confidently with New ID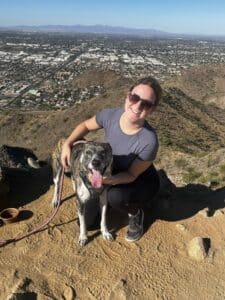 After more than two years as an Arizona State University student, 24-year-old Rebecca Tindle was tired of getting questioned whenever she tried to vote with her out-of-state ID. 
Arizona law permits a voter to use an out-of-state ID as long as they also have another ID with an address that reasonably matches their voter registration. But that didn't stop poll workers from asking Rebecca if her ID was fake on multiple occasions. 
"Do you want me to prove it to you?" she asked the election officials. But when they realized she was serious about her student status, they didn't push her further. 
Originally from Indiana, Rebecca is pursuing her master's degree in social work and hopes to work for Mayo Clinic hospital, where she's currently interning, after she graduates and receives her master's license. In order to obtain her master's license in Arizona however, Rebecca will need to be an Arizona resident, which means she will also need an Arizona state ID. 
Before Rebecca was connected to VoteRiders, she found the process to apply for an Arizona ID incredibly confusing. 
"Every time I would try to schedule an appointment online, the DMV would tell me that since I don't already have an Arizona license, I needed to call them," Rebecca explained. " Also, my car is in my mom's name and I didn't know how to switch my plate. So I just put it off because I was so confused."
Luckily, at a Women's March organized by the Arizona Students' Association, Rebecca learned that VoteRiders could help her with every step of the voter ID process, and she was put in contact with Dani Duarte, VoteRiders' Arizona Voter ID Coalition Coordinator. 
"I emailed Dani and she told me what I needed to bring," said Rebecca. "She set up a time to meet me at the DMV. I met her there and we got right in. She also paid for the ID. She made it so much easier and less stressful." 
With a new Arizona state ID, Rebecca is now eligible to obtain her master's license, petition for in-state tuition, and vote confidently in person. 
But her work with VoteRiders is far from over. Rebecca works with the Office of Sex Trafficking Intervention Research (STIR) at Arizona State University, which organizes drop-in centers to offer support services to trafficking victims. After connecting with Dani, Rebecca invited VoteRiders to offer its ID services at the next drop-in center to victims who have lost all of their documents, something STIR sees often. 
"I'm really happy I was connected with VoteRiders," Rebecca concluded. "It all worked out so well."