VoteRiders Fights Misinformation and Secures Family's IDs for Voting - and Living
Written by: Erin Carden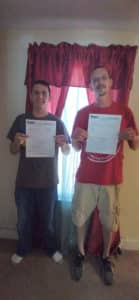 A multiple sclerosis diagnosis, a job loss, an eviction, and a flood that destroyed most of their important documents – these are the calamities that forced Roger and Sandra, their son Evan, (names changed for privacy), and the couple's younger children out of their southeast coastal Virginia home in 2016. To add to their woes, no one in the family had an ID. Without current IDs, they faced obstacles to banking, health care, voting, and employment. 
Roger's driver's license had expired and Sandra's was suspended because they lost their car insurance. While Roger did find another job and the family secured new housing, their licenses were essential for transportation. Without them, they were stuck. The problem was, in order to obtain a new ID, Roger had to present several personal documents (social security card, birth certificate, etc.) many of which had been destroyed in the flooding. When they tried to replace their lost documents, they found themselves in a circular situation: they needed IDs to replace the documents required by the DMV to obtain their IDs. 
Sandra searched online for help obtaining their IDs. She got nowhere until a VoteRiders volunteer called her and put her in touch with staff member Pam S. in North Carolina. Pam helped the family replace their birth certificates and put Sandra in touch with Helen, a volunteer from Virginia. 
After Helen took time to better understand the family's ID issues, she focused on clarifying misinformation and providing accurate instructions on what they needed to do to get their IDs.
Isolated by the COVID-19 pandemic, and without a permanent place to live or personal transportation, the family was largely disconnected from the news and had little access to accurate information. 
Initially, Sandra was under the impression that to get her driver's license back, she first had to pay thousands of dollars in court costs related to their eviction. As it turned out, the family had missed a large amount of mail during the time that they were homeless, including notices from the DMV stating that they no longer had to pay off their court debts as a condition of getting their licenses back. 
Helen also initiated a three-way conference call with Sandra and a helpful DMV agent, during which Sandra learned she owed the DMV a much smaller and more manageable amount of money. That allowed her to set up a payment plan and have her license immediately reinstated. While on the call, Sandra contacted Roger at work and added him to the conference. Roger learned that he could go to the DMV with his expired driver's license and other required documents, which he now had thanks to Pam, and simply apply to renew his license. Evan had been studying for his learner's permit and was ready to take the written test. 
Helen also clarified misunderstandings surrounding Virginia's voter ID law. Roger and Sandra voted regularly until they lost their home, and their adult children are registered too. But they weren't aware of the changes in Virginia law in 2020 that would allow them to vote without current government-issued photo IDs. As a voting family, they were relieved to learn that their IDs will serve as proof of identity when it is time to go to the polls and vote for the candidates of their choice.
Helen's next plan of action consisted of securing back-to-back appointments for Roger and Evan at their local DMV, arranging to cover payment for the IDs, and providing round-trip transportation to the DMV. Meanwhile, Sandra was able to pay for her license reinstatement fee and set up a payment plan for the vehicle non-insurance penalty. Since her license was nearing expiration, VoteRiders reimbursed her for the cost to renew it when she set up the payment plan. 
"There's no way we could have sorted all of our issues with the DMV without VoteRiders' help," Sandra said.
No longer having to face life without ID, the future is now looking a bit brighter for Sandra and her family. With an ID, Roger can now complete truck deliveries for his employer, and Evan plans to use his learner's permit to look for paid work. Evan's immediate goal is to earn and save enough money to take an adult driver's education course and get his full driver's license as soon as possible – which has the potential to open additional job opportunities for him.