Grandmother & Grandson No Longer "Trapped" Thanks to New ID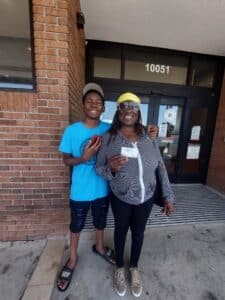 2022 has been an extremely difficult year for Rosari Williams, a 54-year-old Floridian who became houseless after losing her mother in January. While Ms. Wiliams received her mother's inheritance, it remained locked away for several months. The reason: she didn't have an ID. 
Then, she met Eli Garcia from VoteRiders. 
In June, Ms. Williams told an employee at Kaleo Ministries in Orlando — where she was living with her grandson at the time — that she needed help getting an ID. Within two days, Ms. Williams received a call from Eli, VoteRiders' Florida Organizer, who offered her help every step of the way.  
Eli made Ms. Williams a DMV appointment, requested a new copy of her birth certificate, arranged round-trip transportation, provided one-on-one assistance during her DMV appointment, and covered all related costs. 
With an ID, Ms. Williams is now one step closer to receiving her mother's inheritance. She can also now access child support and housing assistance, two essential benefits that have helped her on her path to stability. 
"People without any identification or anything — they're trapped," remarked Ms. Williams. "Thank God for VoteRiders. I can't thank you guys enough. Without my ID, my grandson and I would have been still trapped." 
Ms. Williams has three children and six grandchildren. Before she became her mother's caregiver in 2015, she worked as a dental assistant. She enjoys reading and learning new things. Most of all, she loves to help others. 
"At the end of the day, I like helping people," Ms. Williams explained. "So as soon as I get my hands on the money that my mom left me, I'm definitely going to help some people, because I never thought I would find myself in the situation that I was in."
Aside from starting a nonprofit, Ms. Williams also plans on using her ID to vote. 
"That's one of the greatest things about having an ID," she said. "If it weren't for you guys, I promise you I would have never voted again … I am going out and I am using my ID to vote. I gotta be heard … if you don't go out and participate in anything, what are you going to voice your opinion about?" 
Ever since she connected with VoteRiders, Ms. Williams has continued to pass out VoteRiders' voter ID information cards, which contain information about the types of IDs required to vote in each state. 
"I've given out a copy of the card so they can call you guys," Ms. Williams explained. "Because I know you guys are great." 
Helping people like Ms. Williams is the heart of our mission. At VoteRiders, we provide voter ID assistance so that every American has the chance to be heard.