Staff Spotlight: Tracy Pease
Written by: Erin Carden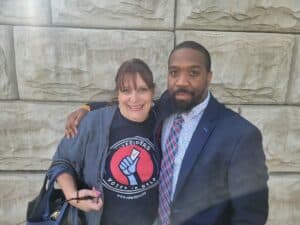 Tracy Pease — VoteRiders' Detroit Organizer — first learned the importance of organizing when she started going to union meetings with her father at the early age of six. 
 After spending years of working as a volunteer organizer while juggling employment as a door-to-door salesperson and then a restaurant server, Tracy officially began her professional organizing career in 2018 as a One Fair Wage Michigan Ambassador. 
Four years later, Tracy is now bringing her resilience and fierce determination for justice into her work as VoteRiders' Detroit Organizer, where she is focusing on expanding voting rights and supporting disenfranchised minority communities through voter ID assistance. 
Tracy has personally experienced how challenging it can be to get an ID. In 2014, she was living with an expired state ID from Illinois and no driver's license. She had also lost her birth certificate and social security card. 
It took Tracy a month to get a copy of her birth certificate — which then made it possible for her to get a new ID — and was horrified to learn that it cost $125. 
"I am a white woman with a little financial privilege because of my parents, so the $125 wasn't an obstacle for me," Tracy said. "But if you're a 70-year-old Black man living on a fixed income in the most impoverished city in the country [Detroit], it's a problem. This is why voting rights and the basic need for a picture ID is a passion of mine." 
Before joining VoteRiders, Tracy had spent years building connections within Detroit's Black community, connections she is now working to turn into partnerships with VoteRiders. Aside from nurturing existing connections and fostering new partnerships, helping someone get a new ID is one of the most rewarding parts of Tracy's job. 
"Being able to pull your ID out when somebody asks for it and say: 'Yeah, here I am.' That means a lot to some people," Tracy said.  "I use my white privilege to amplify the BIPOC voice. When the BIPOC community needs a white presence, they call me because I go out and I make safe spaces. I cover them with my privilege and I fight for those without the same privilege. Because the BIPOC community trusts me, I'm able to move within spaces that other white individuals would find difficult. I'm invited into those spaces."
In 2011, after a 20-year-old Black man with autism was wrongly arrested, Tracy spoke before the Hazel Park City Council. While the city attempted to charge the young man with a felony — which was wholly based on the account of two white women — Tracy spent nine months organizing public events, delivering speeches, and educating the community on details surrounding the case. Tracy's organizing and activism led all charges to be dropped. 
"I've gotten a reputation in the Black community as being a white woman who wields her privilege like a sword against white supremacy," Tracy said. "I have no problem calling out the white community on their privilege and racism."
As VoteRiders' Detroit Organizer, Tracy continues to hold on to her defining motto, signing off every email with the words: "We move together, or we don't move." 
"White women won the right to vote in 1920, but we left an entire race of women behind," she explained. "Not this time. If I have to, I will go back, pick up a woman who has fallen behind and carry her until she can walk again. That's what I mean when I say, 'we move together or we don't move."