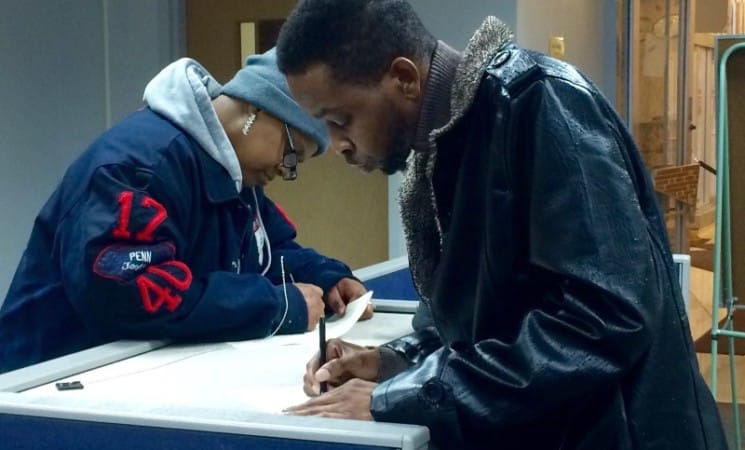 Nefertiti's Voter ID Story
Nefertiti Helem and her partner, Ernest Barksdale, moved to Milwaukee from Chicago in 2013. Until VoteRiders and Citizen Action organizers visited their apartment complex for low-income seniors and people with disabilities, they didn't realize that their Social Security cards or their Illinois IDs would not be valid for voting. Neither Ernest nor Nefertiti drive.
Battling a degenerative disease that makes walking painful, Nefertiti said she didn't want it to stop her from participating in the election.
"I feel like it's my duty. I feel obligated to vote. It feels better to be a part of it all. I want to help get somebody in office who can help everyone out. I want to have a voice and a say in who becomes President."
VoteRiders' organizer drove them to the DMV. Ernest had all the documents he needed and was able to get his free ID to vote. However, Nefertiti did not have a copy of her birth certificate. Though she presented her Social Security card, proof of residence, and Illinois State ID, the DMV staff said it would take them at least three weeks to find and verify her birth certificate. (Her visit occurred before the Wisconsin DMV instituted procedures to give voters a temporary ID to vote within a day or two, even if they were in the process of verifying documentation.)
Nefertiti was very disappointed that she would not be able to vote in the Primary Election. Trying to stay positive, she planned on using her ID to vote in November, "At least I'll be ready next time." But the fact remains that she was disenfranchised by Wisconsin's restrictive voter ID law, scarcity of comprehensive voter education, and inadequate ways for voters who lack ID or required underlying documents to obtain one in a timely manner.
For more on Nefertiti and Ernest, see "In Wisconsin, path to the voting booth now requires a stop at the DMV" by PBS News Hour correspondent John Yang.