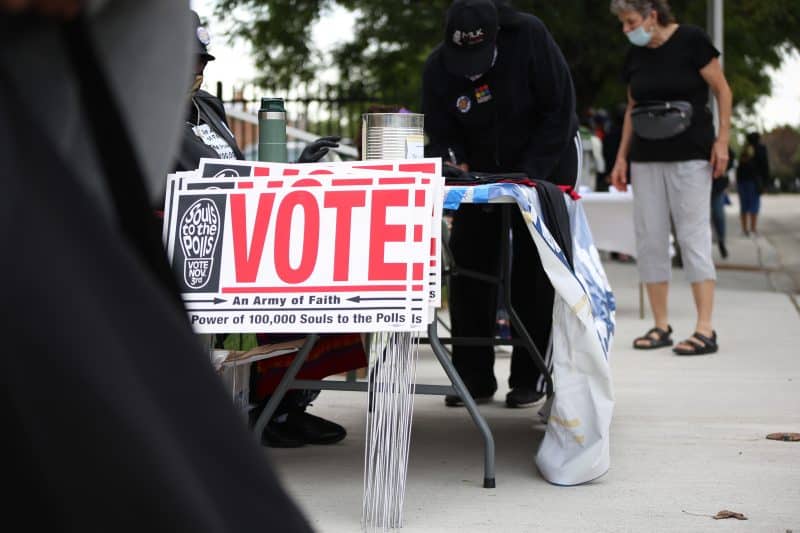 Souls to the Polls Milwaukee — A Success Story
The 2020 election saw a record number of voters turning out to cast their ballots despite the obstacles of a pandemic and new voter ID laws. One of the biggest success stories in voter education came out of Wisconsin, where Anita Johnson of VoteRiders and the Souls to the Polls organization worked with local churches to register hundreds of people, inform them of voter ID requirements, and help them get the required ID.
New laws introduced in Wisconsin about voter ID were confusing to many, as prior to 2014 no ID had been required to vote. Anita reports, "The first ID I helped someone get was for a homeless veteran, and it took six months." Having the proper documentation can be quite complex, and without help, many would-be voters could not comply or dissuaded from doing so. Assistance from VoteRiders' staff and volunteers, and by Souls to the Polls, is critically important so that these citizens can make their voices heard.
Over the last several years, Anita has worked with more than 500 churches to help their congregants become educated and empowered voters, starting with attending community meetings and progressing to setting up voting sites in churches. This year, when traditional methods of voter turnout were not possible because of the pandemic, the teams turned to Zoom trainings and phone outreach. Souls to the Polls actually hired church members to call their fellow congregants and assist them with registration and getting the proper IDs.
"These women were fantastic," notes Anita. "They would not hang up until the voter was registered with a plan to vote, or had requested an absentee ballot."
Under Anita's direction, VoteRiders' Organizer worked with volunteers to canvass in the local neighborhood after Sunday services, wearing masks and plastic shields and socially distancing for safety. They visited parks, went to Juneteenth events, and stood outside senior living homes to register residents there.
While Souls to the Polls does not have a national parent organization, they do exist in many states and cities. Indeed, VoteRiders started a Souls to the Polls program in Georgia leading up to the 2020 general election, on which Anita consulted. She offers this advice on how to replicate her successful engagement with Souls to the Polls:
It all starts with a pastor who is willing to lead this initiative and who has a strong standing in the community.  This individual can introduce the educational process into their church, and also be the ambassador to other churches, speaking pastor-to-pastor.
Be very clear that you are not talking about politics. It is about education on the voting process so that every eligible voter can cast a ballot, according to their conscience.
Recognize the position of authority that each pastor has in their church, and be sure to work with that person or their designee. Having the pastor appoint a liaison is a good strategy as pastors are very busy, and their designee will have their approval and support to carry out this project.
 As the outreach grows, be sure to involve other pastors and ensure that their support and contributions are recognized.
When you get the chance to present at a church or a meeting, be clear, passionate, and articulate. You want people to come up to you afterwards, and you want referrals to other organizations.
Be available to help the churches with the project. The outreach starts with education, followed by personal assistance to would-be voters, training of other volunteers, and recruiting more people for outreach and canvassing. If laws or requirements change, be available quickly to go back in and re-educate people about any new rules or procedures.
It helps if you yourself are religious or a member of a church – not necessarily the church you are going to work with, but having an affiliation with a spiritual organization is valuable.
As you work with your church liaison, look for opportunities to get the word out at church events, newsletters and bulletins.
Once the work begins, watch for and create opportunities to get media coverage – press coverage, press conferences, and announcements that will attract media attention and get more people involved. One press conference in Wisconsin involved eight pastors speaking; 100 people plus local press attended.
Create events that are fun and exciting and that invite participation. In Wisconsin, a rally was held before the first day of early voting, with music, dancing and speakers. Congregations cooperated in efforts to take voters to the polls for early voting. A caravan of vehicles picked up voters at five different locations and brought them to the polls on Election Day.
The most important element in this relationship is trust—building up trust with the churches you approach and doing the legwork. As the relationships grow, more groups will reach out to you about your success.
With a primary coming up in February in Wisconsin, Anita and her teams are already at work on their organizing efforts for this election.
Guest Post by Joy Scott and Jason Scott-Sheets
Photos: Souls to the Polls Milwaukee