Staff Spotlight - Dani Duarte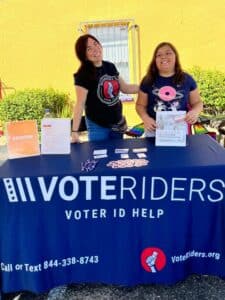 VoteRiders' Arizona Voter ID Coalition Coordinator, Dani Duarte, is a Colorado native who has called Phoenix, Arizona, home for the past nine years. Desperate to get a break from the snowy winters of her home state, Dani has long loved Phoenix for its delicious food, its vibrant culture, and the warm and welcoming people who live there. 
Aside from her position at VoteRiders, Dani is also pursuing a master's degree in social justice and human rights at Arizona State University. Before starting at VoteRiders in July 2022, Danielle served as a policy analyst for several Arizona legislative campaigns where she helped strategize how to reach Arizona's diverse voting populations. She also previously worked as a field director for a legislative campaign committee, leading on-the-ground efforts for five different legislative campaigns, as well as the communications director for a Phoenix city councilwoman, organizing community events and facilitating partnerships between local schools, government groups, and community organizations. 
Throughout these experiences, Dani has remained an advocate for the importance of going into local communities to find underrepresented voices, and helping these community members harness their power to ensure more equitable representation in government. 
"It's just about being a good listener," Dani said. "If their voice is heard, more representation will follow, and better things will happen. No matter what campaign it is or what organizing role I have, usually, we can find some type of common ground to build off of." 
As VoteRiders' Arizona Voter ID Coalition Coordinator, Dani especially enjoys working with partner organizations that are doing interesting and important work to empower communities in Arizona. 
"The other day I learned about an organization that works with individuals with brain injuries and helps them with their disability," Dani explained. "VoteRiders gets to partner with them and help their clients get state IDs."
Dani also enjoys working with Arizona's large population of native voters, many of whom are disenfranchised by Arizona's strict voter ID laws. To vote, every Arizona resident must show either one form of photo identification or two forms of non-photo ID, and certain tribal IDs are often rejected. 
As a social justice advocate, Dani's role at VoteRiders is not only an opportunity to help Arizonians express themselves through voting, but also a way to help voters overcome barriers to economic justice and escape cycles of poverty. 
"With an ID, they might have better access to jobs, better employment, transportation, and then their families will have better access to these things as well," Dani explained. "IDs help bring people potentially out of poverty and create something better for the future of this country. It's amazing to think that it could all start with something so simple and overlooked as a photo ID." 
Whether she's organizing a clinic to educate voters on Arizona's voter ID laws or is providing direct assistance to an individual in need of a state ID, Dani Duarte continues to uplift Arizona's underrepresented communities and remains dedicated to ensuring that voter ID laws don't silence the power of their voice.