Voter ID Story: Stephen and Mary Beth in Arizona
When Stephen and Mary Beth Wagner moved from Alabama to Chandler, Arizona, in the fall of 2020, they were not able to vote in the presidential election.
"We actually haven't been able to vote in several years due to moving from state to state for our work," Stephen said recently. But now they're ready for Arizona's primary on August 2 and the general election on November 8, thanks to VoteRiders.
Stephen had tried using Arizona's Motor Vehicle Division (MVD) website for information about getting the IDs they need to vote. But there was a problem.
"Being a visually impaired individual, the MVD website wasn't always cooperative or, in some parts, (it was) inaccessible," Stephen explained. It's a problem they've experienced before. "It always takes so long to get all of the right documentation and transportation to the right location, so getting state identification has been a struggle in other places," he said.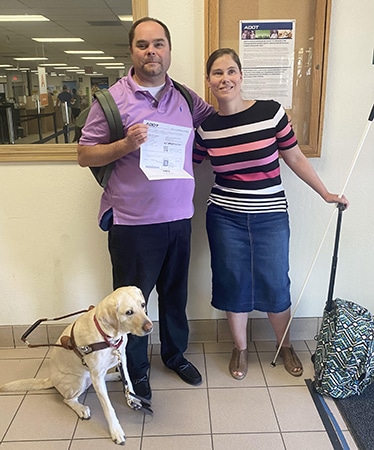 Luckily, an email shared by Mary Beth's employer, the Foundation for Blind Children, connected the Wagners with Ability360, which partners with VoteRiders to provide free ID help to Ability360's clients with disabilities. On a Zoom call, the Wagners met Cassandra Chavez, VoteRiders' Arizona Voter ID Coalition Coordinator.
"VoteRiders did such a great job — from answering my email so promptly, to personally accompanying me and my wife to the Arizona MVD to get our first Arizona Travelers Identification," Stephen said. "You were so helpful with all of my questions and with making sure we had all of the documents we would need. I don't believe the process could have been any smoother."
Through VoteRiders' partnership with Uber, Cassandra also arranged a ride for Stephen, Mary Beth and their service dog, Mae, to the Arizona MVD office.
"You were always available if we needed help with any forms or documents," Stephen said of Cassandra. "Your patience with two blind individuals trying to navigate the MVD office is so appreciated. You never hesitated to step in when we needed assistance while giving us whatever space we asked for in which to be independent. We couldn't have asked for a better balance of personal attention and warmth combined with professionalism."
While they were at the MVD office getting their IDs in early June, Stephen and Mary Beth also registered to vote.
"I can see just how important VoteRiders is for the state of Arizona," Stephen said. "You made getting our state-issued Travelers Identification simple and stress-free. Mary Beth and I made sure to get the Travelers State ID so that we can use it for interstate travel and as proof of ID to vote."
For more information about Arizona's voter ID law or to get free help with an ID to vote, visit our Arizona state page. And to partner with VoteRiders in Arizona or elsewhere in the country, email our National Outreach Director Selene Gomez at [email protected].