North Carolina Voter on Road to Recovery After Receiving ID Help from VoteRiders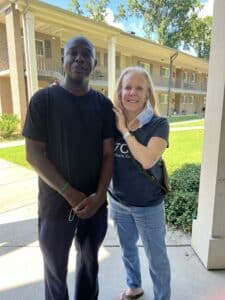 Bobby Smith was tired of being tired. Twenty-eight years of addiction had taken a toll on his forty-seven-year-old mind and body, and in May 2022 he was ready to turn his life around. After learning about SABER, a North Carolina-based residential recovery program operated by Roof Above, Bobby bought a one-way bus ticket to Charlotte, leaving his job, his car, and his home in Georgia behind. 
But when Bobby arrived at Roof Above, his road to recovery hit a snag – he could not enroll in the SABER program without a North Carolina state ID. Luckily, a Roof Above employee mentioned that one of their partner organizations, VoteRiders, would be able to help. 
VoteRiders' North Carolina Voter ID Coalition Coordinator, Pamela Pearson, worked closely with Bobby and helped him trudge through the tireless process of replacing personal documents to secure his new North Carolina ID. Now Bobby could officially enroll in Roof Above's SABER program and start his long-awaited road to recovery. 
Seven months later, Bobby had plans to return to Georgia to visit his family for the Thanksgiving holiday. But there was a problem. If he wanted to reinstate his Georgia driver's license while he was back, he would have to revoke his North Carolina state ID, which he needed to stay enrolled in the SABER program. He also had plans to purchase a new car in Georgia and wanted to drive it back home to Charlotte, making the state ID and driver's license switch all the more complicated. 
He called VoteRiders' Pamela Pearson and she informed him of North Carolina's testing requirements for drivers, scheduled an appointment for him at the local DMV, and explained the other various complicated steps he would need to take to switch his Georgia driver's license to a North Carolina license when he returned after the Thanksgiving holiday. 
"Getting my ID had a great impact because things are moving, things are back to normal in my life now," Bobby said. 
Since starting SABER, Bobby has graduated from the Community Culinary School of Charlotte and is now taking business classes to prepare for his goal of becoming a Charlotte-based food-truck owner serving Southern Comfort food. Pamela was lucky enough to get the low-down on his secret "super cheesy" mac and cheese recipe! 
"Miss Pam is a great friend of mine," said Bobby. "She's really proud of me. She believes in me. And I stay in contact with her. She's been very helpful and she's a wonderful person." 
VoteRiders' North Carolina team can't wait to see Bobby's future food truck and sample what they know will be delicious food!