ID Gives Virginian Access to Housing
Written by: Erin Carden
As a 70-year-old living on the streets of Virginia, William's only chance of escaping the relentless rain and bitter cold was to apply for housing assistance. To do that, he first needed an ID.
Luckily, William got his ID with help from VoteRiders, but the many obstacles our dedicated and resourceful volunteer overcame to secure William's ID illustrate the problems that far too many people face in order to vote, work, or receive government benefits.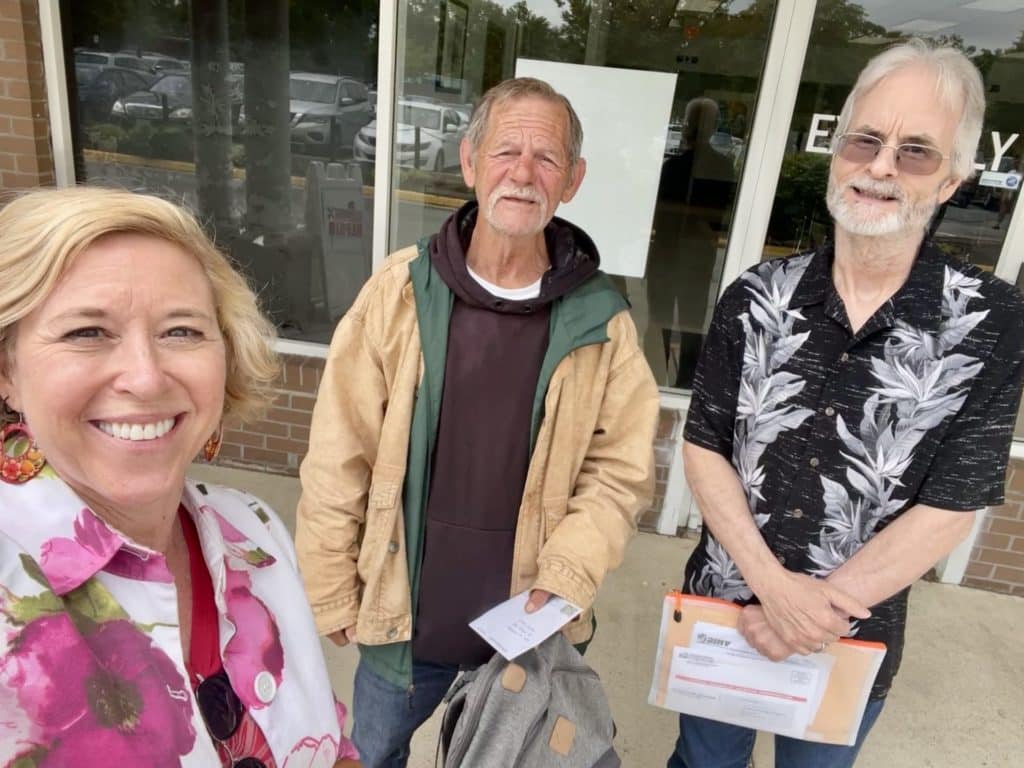 Here's William's story:
It was in February of 2022 when William walked into a local church and asked for help. 
He was wet and cold. After explaining that he needed an ID, the church connected him to Lori Arbuckle, a VoteRiders voter ID volunteer who had met William briefly a year earlier. 
Helping William secure an ID proved to be quite a challenge, Lori recalls. To obtain an ID in Virginia, one must provide physical documentation of identity, legal presence, Social Security number, and Virginia residency. However, due to William's memory impairment, he had difficulty recalling details about his past. Without any knowledge about where William was born, Lori wondered how on earth she would find the information she needed to get an ID for William. First, she turned to Virginia's Selective Service Records for help. Unfortunately, Lori learned that years ago there had been a massive fire at the U.S. government facility where the records were stored, and therefore, William's record was most likely destroyed.  Next Lori turned to Ancestry.com and was able to successfully identify his birth mother and the county in Virginia where he was most likely born. 
In the meantime, Lori was connected to Mark, a community member tasked with helping William obtain his birth certificate. Mark, who had met William years earlier, had built a rapport with him, and Mark and Lori decided to work together to find William's birth certificate. First Lori tried to order it through the local office of vital records, but to her disappointment, his birth certificate could not be found. 
It was time to try another method. Lori knew that at one point, William had a Virginia ID, so she reached out to the local DMV to ask if they could provide her with any information on the documents William had used to obtain his last ID. To her delight, the DMV agent revealed that he had presented a birth certificate and a name change document. That's when Lori realized: William had never been officially adopted; he had legally changed his name. 
Still, the end was not quite in sight, as Lori had no record of the name change. With no statewide database on name changes, this information can only be found in the court where the name change was processed. Lori had to make several calls. First, she called the court located in the county where William was currently living. No luck, they did not have his name change document on file. Next, she called the county court where William was born, but because his birth dates back to the 1950s, they were going to have to check their archival records and get back to her. 
In the meantime, Lori tried something else. William suggested she call a public defender who represented him years ago to ask about his name change document. While Lori was quite certain this person would not disclose sensitive information, she found her email address online and wrote her an email explaining the situation anyway. To her complete surprise, Lori received a swift reply containing enough information to determine which court William used to change his name. It was after calling this fourth court that Lori finally found William's name change document. 
As if the stars were aligning, William finally remembered his birth name, making it possible for Lori to submit a birth certificate application on his behalf. Four was proving to be the lucky number. On her fourth attempt at obtaining William's birth certificate, Lori received a call from the vital records office informing her that her order had been successfully processed; his birth certificate had been found. 
"I could not believe it. I was so excited. I felt like a real detective," Lori said. 
With both his name change document and his birth certificate, all Lori needed to do next to secure his ID was provide two proofs of address. Because William had no permanent address, this was tricky. For his primary address, Lori supplied a post office change of address document. A local church then offered to let William use their address as his secondary piece of proof. All Lori had to do next was mail William a letter with the church's address. 
Three months later, they had finally gotten it all. 
On May 12, Lori invited William to have lunch with her before accompanying him to his DMV appointment. She presented him with the documents they were required to hand over to the DMV agent, and William signed his ID application. Mark joined them, and together they walked into the DMV to get William's ID. To ensure that there are fewer hoops to jump through in the future, Lori set up an online account so William can order a replacement ID online if he ever loses it. 
With an ID in hand, William no longer has to sleep outside; now he can access safe, secure, and dignified housing. 
"William is a 70-year-old man living on the streets. It's terrible," Lori said. "Now, with an ID and a birth certificate, he can work with shelter housing specialists to get him into housing, and he should also be able to get social services again."
William now has a bank account, is receiving social service benefits, and is working with local housing case managers to secure housing.