VoteRiders Advocates for Transgender Voters
Written by: Erin Carden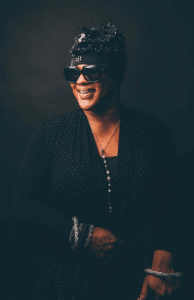 Before Jey'nce knew about VoteRiders, changing her legal name felt like wishful thinking. But when she found out that her friend and ally — Tracy Pease — would be starting a new position at VoteRiders as Detroit Organizer, her hope reawakened.  
Everyone who knows Jey'nce Poindexter knows that she is a leader. The 38-year-old transgendered woman founded the Trans Sistas of Color Project — a nonprofit organization that aims to empower the lives of transgendered individuals living in Detroit. She also works as a case manager at the Ruth Ellis Center where she provides trauma-informed care to at-risk LGBTQ+ youth.
"Everybody — somewhere, somehow — has worked with Miss Jey'nce," said Tracy. 
Tracy and Ms. Jey'nce first met at an event in 2019 organized by Focus: HOPE, during which Ms. Jey'nce spoke passionately about the many struggles faced by Detroit's transgender community. 
In the summer of 2022, when Ms. Jeyn'ce learned that VoteRiders helps voters change their legal name so they can get an ID to vote, she was relieved and thankful to have Tracy on her side. 
"To change her name she would have had to go through an attorney which costs two to three thousand dollars — money she doesn't have," explained Tracy. 
Luckily, with Tracy's support, Jey'nce successfully filed a name change petition and got her fingerprints taken. She is now awaiting her legal name change approval from Detroit's Oakland County court. 
Tracy's work with Detroit's LGBTQ+ community didn't stop there. After assisting Ms. Jeyn'ce, she was connected to another 38-year-old transgender woman who needed help changing her name. Her name is Inga and she was Ms. Jey'nce's client at the Ruth Ellis Center. 
While the process to file for Ms. Jey'nce's legal name change ran smoothly, Inga was not as lucky.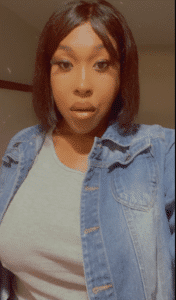 Unlike Ms. Jeyn'ce, who lives in Oakland County, Inga resides in Wayne County, which requires fingerprints to be taken at a Wayne County police agency. After learning this, Tracy called the county sheriff's department to find out where to take Inga — but her call was never answered, it only rang endlessly. Annoyed, Tracy hung up and drove to the sheriff's department office instead. "Oh, we don't do fingerprinting here," they told her. "This is just the administration building. You want to go to the Wayne County Jail, half a mile away." 
So off Tracy went to the Wayne County Jail. When she arrived, she was met with surprise. "Fingerprinting? We don't do that here," they told her. "You might want to try The Dickerson Wayne County jail." Flabbergasted, Tracy called a trusted colleague who told her, yet again, to call a different police location within Wayne County. "Call the Detroit Police Department's 12th precinct," they told her. So Tracy did, and she was finally able to schedule an appointment for Inga at 9 a.m. on Wednesday, September 21, 2022. 
But it wasn't over yet. 
On Wednesday, Tracy and Inga walk into the 12th precinct. It was not yet 9 a.m. "My client is here to have her fingerprints taken," Tracy told the receptionist. "Fingerprints?" they said. "We don't do that here." After a heated conversation with one of the sheriffs, they learned that Tracy had been unknowingly transferred to Detroit's 3rd precinct when she initially called to schedule Inga's appointment — so they got in Tracy's car and drove to the 3rd precinct. When they arrived, it was no different. "We don't do fingerprints here," the sheriff at that precinct told them. "The person you made the appointment with is at the 4th precinct." 
By the time Tracy and Igna arrive at the 4th precinct, it was almost 10 a.m., and they were told that because they missed their 9 a.m. appointment, Inga could no longer get her fingerprints taken that day. Tracy, however, rarely takes no for an answer. After describing the wild goose chase that they had been sent on that morning, Tracy said to the police captain, "Inga is getting her fingerprints taken, and she's getting them taken today. Otherwise, I'll be calling the channel 4 news." To avoid further upset, the captain conceded, and Inga's fingerprints were finally recorded. 
The legal and bureaucratic maze Inga and Tracy navigated is common. 
Every U.S. state has different requirements for legal name changes and/or updating gender markers on birth certificates, state ID cards, and driver's licenses. For transgender and nonbinary people in more than 20 states, restrictive requirements can make this process challenging or even impossible. 
LGBTQ+ voters in every state also deal with intimidating and discouraging bias, confusion, and inconsistent application of the law when it comes to securing essential identification and voting. 
"Some people automatically think transgender people are deviant," explained Tracy. "They will do anything to make them feel lesser than — it's transphobic."
In 2021, VoteRiders teamed up with HeadCount to launch #TransPeopleVote, a complement to HeadCount's ongoing Vote With Pride campaign. These resources support the unique ID-related needs of trans and nonbinary voters. In 2022, we celebrated Pride Month with updated and expanded #TransPeopleVote resources for all 50 states and DC.
On VoteRiders' Pride Page, voters can learn about their state's voter ID requirements and their options for updating vital documents and state-issued IDs. If they have questions or need help, VoteRiders can offer personalized guidance and support via our Helpline and Chatbot.
VoteRiders' commitment to advocating for LGBTQ+ rights is constant. Our dedicated staff is devoted to raising awareness around the steep and unique challenges faced by LGBTQ+voters, and we work tirelessly to ensure that these communities have the power to make their voices heard.