"VoteRiders may have saved my life"
Dolly Canning found herself in an almost impossible situation. She needed a current state ID card to get a critical medical test to continue getting her prescription medication. 
But Dolly's Florida ID card expired in 2017. And despite four trips to the local DMV office, she couldn't get one because she didn't have a vital record from Tennessee. And Tennessee wouldn't give her an official copy of an old marriage license to document a name change because she didn't have a current ID to prove her identity.
Living on Social Security and with disabilities, Dolly couldn't afford to travel to Tennessee to prove to state officials that she is who she says she is. 
"I felt the walls closing in on me," said Dolly, a 66-year-old widow. 
How Dolly got her ID
Not knowing what else to do, Dolly reached out to her favorite local TV station and reporter Rich Donnelly at FirstCoastFlorida News in Jacksonville, who did an "On Your Side" story about Dolly's dilemma on Friday, March 11. 
Luckily, Dianne Main, voter registration director for the League of Women Voters Jacksonville/First Coast, saw Dolly's story on the news and wanted to help. So she reached out to Donnelly to tell him that VoteRiders could help Dolly get an ID. At the same time, Jacksonville/First Coast League President Lanelle Phillmon reached out to VoteRiders.
VoteRiders' nonpartisan mission is to ensure that no eligible voter is prevented from casting a ballot that counts due to voter ID laws. We partner with local Leagues and hundreds of other organizations all over the country, providing information about voter ID laws and helping citizens get ID to vote. But we also know that there are many other important things that people need ID for, like access to health care, employment and other services.
VoteRiders' Florida Voter ID Coalition Coordinator Jazlyn Gallego reached out to Dolly, as well as the Duval County Tax Collector's Office, which oversees the local DMV. Jazlyn explained Dolly's situation to a manager at the office, and learned that she would be able to get a permanent ID card without having the Tennessee marriage license in hand. Once she had her Florida ID, Dolly could get her Tennessee record and provide it to the Tax Collector's Office at a later date. 
Making connections and going the final mile
Transportation to and from the DMV was also a barrier to Dolly getting the ID she needed. Dolly doesn't drive, and the cost of transportation was prohibitive for her. VoteRiders arranged for Dolly and a friend to travel to the DMV via Uber, a VoteRiders partner that has generously donated rideshare credits to enable voters to get to and from ID-issuing offices. And VoteRiders also made arrangements to pay for Dolly's ID.
The last piece of the puzzle to getting Dolly's ID was assistance at the DMV office. Because Dolly doesn't have email or a smartphone, she needed someone to meet her at the Tax Collector's Office who could show workers there an email from the supervisor to Gallego. 
VoteRiders doesn't currently have a presence in the Jacksonville area, but we partner with Faith in Public Life, a national network of nearly 50,000 clergy and faith leaders united in the prophetic pursuit of justice and the common good. Od'Juan Whitfield, a Faith in Public Life staff member in the Jacksonville area, was able to meet Dolly at the DMV office the morning of March 23, to provide assistance.
"This ID meant everything to me."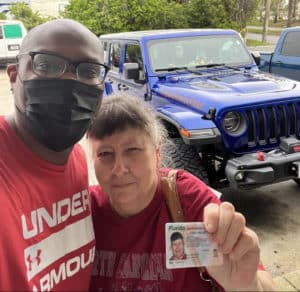 Dolly now has a Florida REAL ID card that is good until 2030.
"You paid for my ID and my ride to the DMV," a thankful Dolly said later that day. "You were great people, all of you VoteRiders!"
"I really can't say enough about VoteRiders. You guys may have saved my life," Dolly said. "My doctor was going to stop all my medication without testing, and I couldn't get tests without an ID. This ID meant everything to me."
Gallego will continue working with Dolly to help her request her old marriage license from Tennessee, and to provide it to the Tax Collector's Office once she has it.
"Sometimes, it can take a village to get voters the ID they need to cast a ballot that counts, " said Gallego. "We're fortunate to be working alongside so many committed partners day in and day out in pursuit of our mission, and with so many individuals like Dolly for whom an ID makes a world of difference." 
With new voter ID provisions in place in Florida for the 2022 election cycle, expanding our work in the state is a top priority for VoteRiders. To learn more about voter ID requirements in Florida, visit www.voteriders/florida, and to join our team of nearly 6,000 volunteers nationwide – including on-the-ground opportunities in Florida – visit www.voteriders/org/volunteer.