Dayton Daily News: Ohio BMV locations to begin issuing free state ID cards today as new voting law starts
Written by: Erin Carden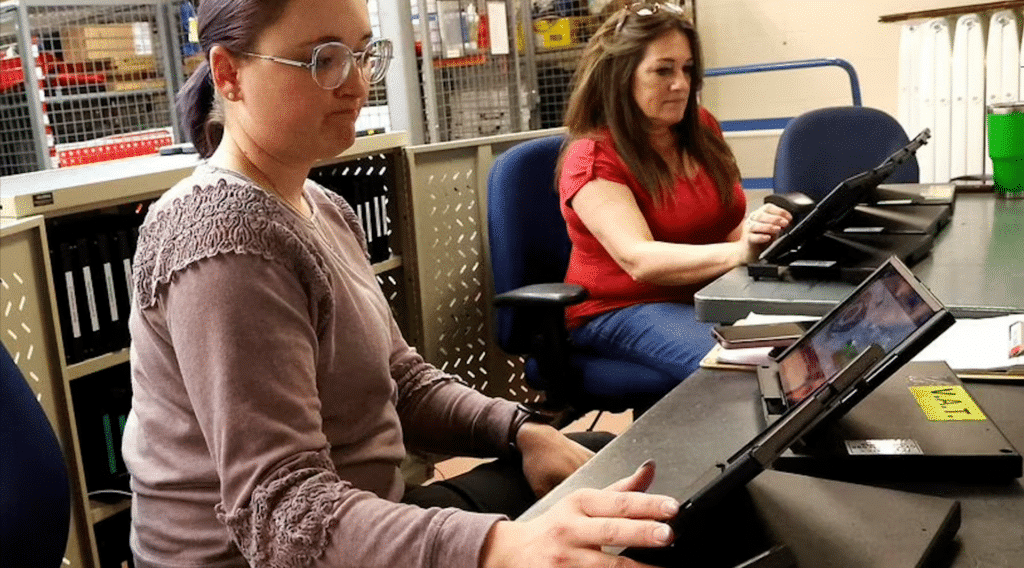 BY SYDNEY DAWES, SPRINGFIELD – APRIL 7, 2023
Groups work to help voters obtain required documents.
Ohio Bureau of Motor Vehicle locations will begin issuing free state ID cards to eligible people today, the same day the state's new voting ID law takes effect.
Acceptable photo ID includes unexpired driver's licenses, state ID cards, an interim ID form issued by an Ohio BMV office, military ID, an Ohio National Guard card, a veterans ID card issued by the U.S. Department of Veterans Affairs and U.S. passports.
The law also made Ohio state ID cards free for Ohioans over the age of 17 who do not have a valid driver's license. Ohio BMV deputy registrar offices across the state are ready to begin issuing the cards, according to BMV spokesperson Lindsey Bohrer.
According to the Ohio BMV, Ohioans seeking a standard ID card will need to show documents that prove the following:
-Full legal name
-Dates of birth
-Legal presence in the U.S.
-Social Security numbers
-Ohio street addresses
-Legal name change (if applicable)
The Ohio BMV has a webpage to help Ohioans determine what documents they need to check off every requirement.
Those who want to vote early, in-person at their local board of election office will need a state-recognized photo ID to cast a ballot.
The state-issued ID cards may be free, but hurdles like transportation and lost documents may prevent Ohioans from being able to obtain them. Groups like VoteRiders are forming community-based volunteer hubs to assist people in the steps necessary to obtain necessary documents for the state IDs.
Ohioans can call or text the VoteRiders helpline at 866.ID.2.VOTE for information and assistance about getting the ID they need to vote. VoteRiders is also gearing up to hold ID clinics across the state throughout April and will coordinate free rides to Ohio BMV offices so voters can get their IDs.
Nick Ramos, interim Ohio voter ID coalition coordinator for VoteRiders, said multiple groups are impacted by the change in laws: people experiencing homelessness, domestic violence survivors, the elderly, LGBTQ+ people and more. But making the system more complex impacts all voters.
For those who do not have an eligible photo ID card and who cannot access a free state ID card for whatever reason, Ohioans can still cast a ballot in this upcoming primary and special election as long as they vote absentee. Citizens can vote by mail using only the last four digits of their Social Security number.
The cards come at no cost to eligible Ohioans who request them. The law stipulates that the Ohio BMV will reimburse each deputy registrar for the deputy registrar's services in issuing the IDs.
Bohrer said it's "still to be determined" if the Ohio BMV will be reimbursed for that cost.
"House Bill 33, the Fiscal Year 2024-25 operating budget bill, includes some language about possible reimbursement, but the budget is still under consideration by the legislature," she said in an email.
---
Early voting: important dates
MARCH
March 17: Military and overseas absentee voting began
APRIL
April 3: Deadline to register to vote
April 4: Absentee voting by mail began (ends May 1)
April 4: Early in-person voting began
April 25: Absentee ballot applications must be received by your board of elections by 8:30 p.m.
EARLY IN-PERSON VOTING HOURS FOR APRIL (2023 PRIMARY/SPECIAL ELECTION | MAY 2, 2023)
April 4-7: 8 a.m. to 5 p.m.
April 10-14: 8 a.m. to 5 p.m.
April 17-21: 8 a.m. to 5 p.m.
April 24: 7:30 a.m. to 7:30 p.m.
April 25: 7:30 a.m. to 8:30 p.m.
April 26-28: 7:30 a.m. to 7:30 p.m.
April 29: 8 a.m. to 4 p.m.
April 30: 1 p.m. to 5 p.m.
MAY
May 1: Mailed absentee ballots must be postmarked by this date
May 2: Primary/special election: Polls are open from 6:30 a.m. to 7:30 p.m.
May 2: Absentee ballots may be returned by mail or personally delivered to your county board of elections. If not returned by mail, absentee ballots must be received by your board of elections by 7:30 p.m.
May 6: Last day for boards to receive mail-in ballots that have been postmarked on or before May 1.
About the Author