VoteRiders Staff Spotlight: Jessica Hulett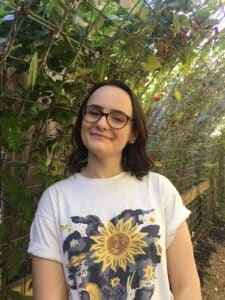 VoteRiders' Houston Organizer, Jessica Hulett, is a born and bred Houstonian who loves to paint landscapes and read romance novels. 
While Jessica had originally planned to work as a civil engineer after undergrad, her spontaneous decision to help a friend write bylaws for a student government conference forever altered the course of her academic and ensuing professional career. 
"I offered to come by and help her and I just never left," Jessica said. 
Jessica's involvement in writing bylaws soon landed her the position of Director of External Affairs for the University of Houston's Student Government Association where she served for three administrations. During this time she led voter registration efforts on campus, coordinated coalitions, and served on a steering committee that worked on various initiatives including establishing a food pantry on campus and creating a system in which name changes would be reflected on student IDs and class rosters. 
With this position, Jessica soon became aware that her heart was not in civil engineering, and she began to see the promising possibilities of a career in civic engagement instead. 
"So then I switched to economics specializing in public policy and advocacy," she explained.
After graduating from the University of Houston, Jessica served as the South Houston Advocacy and Field Organizer for Texas Rising, where she managed a small team of part-time staff that held voter registration and other youth-oriented community events on university campuses and around the Houston area. 
Working with these youths, Jessica realized the barriers they faced to voting. 
"I used to think people were forgotten in the system — like the system no longer caters to them, " she explained. "Now I'm much more of the philosophy that the system never really intended to include those people in the first place — that was kind of the way the system was supposed to look." 
According to a Brennan Center For Justice report, Black and LatinX voters face longer wait times at the polls on Election Day compared to white voters. For example, during the 2018 Midterm elections, Jessica noted that the wait time to vote at the University of Houston was approximately three hours, while the lines to vote at Texas Southern University — a historically Black university down the road — were twice as long. 
This is the reality that keeps Jessica tossing and turning at night — an injustice that angers her more than anything. 
How does she channel her anger? 
"I feel a moral obligation to not be part of the problem, but instead be in the movement in a way that is appropriate and is wanted by the people that are being fought for," she explained. 
For Jessica, this now means focusing her civic engagement and voter education efforts on voting access, which she considers to be the fight of the current generation. 
"In Texas, there are an insane amount of stories that you hear about people who were registered and eligible to vote but couldn't on Election Day because they didn't have acceptable ID," she explained. "They took off work and stood in line for three hours just to be told 'no, you can't actually vote.' That's really upsetting."
Jessica doesn't just view photo ID as a key to voting — she sees it as a necessity for life. 
"It's the key to a door that opens all these opportunities that you otherwise wouldn't have," she said. 
As a naturally generous person with excellent listening skills and experience in voter education, it's no wonder Jessica was chosen to serve as VoteRiders new Houston Organizer. 
"I really like meeting with the community partners," she explained. "That's my favorite part."
As Houston Organizer, Jessica meets with partner organizations in Houston and determines how VoteRiders can provide voter ID assistance to the communities they serve. Through building strong partnerships, Jessica hopes to focus on providing opportunities for trusted sources in the Houston community to refer VoteRiders' voter ID services to other respected organizations in the area. 
"It's one thing [when ID services are] coming from me, or someone else like me, but it's something else entirely when it's coming from a community leader or someone you know you can rely on and you trust," Jessica explained. 
Aside from her organizing position, Jessica is also pursuing a master's degree in public policy at the University of Houston's Hobby School of Public Affairs where she plans to focus her research on how inaccessibility and various constraints (i.e.: wait times, distance, lack of childcare, transportation limitations, etc.,) deter voting — and to what extent — in the hopes of making or influencing policy recommendations. 
"I'm excited to see where it takes me," she said with a smile.