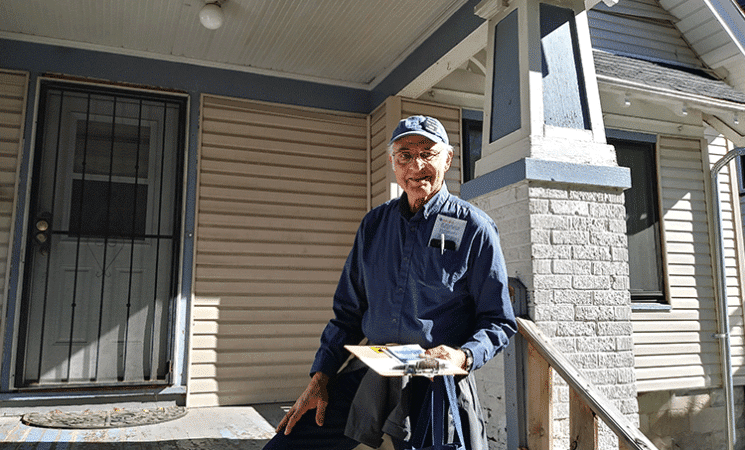 What to do for your summer vacation: Help people VOTE
Guest post by Joy Scott and Jason Scott-Sheets of Scott Public Relations –
When planning his vacation this year, Ed Shapiro knew he would include a trip to Wisconsin from his home in Washington State. Why Wisconsin? That's where Ed, a retired physician, found his way to support the democratic process he so respects by helping people to get IDs so they can vote.
"I feel so strongly that voting is a right for all Americans, and no one should be kept from exercising that right because they don't have the proper identification or are confused about the rules concerning voter ID," says Ed. "I volunteered in Wisconsin for the mid-term elections and saw how important this work is. So, I'll be back this summer to help people qualify for the 2020 elections this fall."
A retired physician from Port Townsend, Washington, Ed found that his home state embraces mail-in ballot systems and is not known for voter ID problems that might keep people from the polls. But in many other states, voters are not so fortunate. As Ed realized how many states were creating stricter ID laws that caused confusion and in particular, would impact voters of color and people with low income, his determination grew to take action about what he saw as a violation of a foundational pillar of our democracy
"I had not considered myself an activist, but this was just wrong. I had to do something," Ed reports. "If the courts or legislatures are not going to ameliorate this problem, then we have to do all we can to help those who are affected by harsh or confusing requirements. I found that VoteRiders was one of the few organizations that would accept assistance from people from out of state, so I chose them for my volunteer commitment."
Ed did have reservations. He's a natural introvert and had never canvassed or done political organizing before. Ed wondered how African-American neighborhoods would accept a 70-something-year-old white guy knocking at their doors. Fortunately, he found that his concerns melted away as people thanked him for his outreach and his help.
Anita Johnson, the VoteRiders Voter ID Coalition Coordinator in Wisconsin, welcomed Ed's willingness to travel and assist in her state. She especially appreciated his openness to doing whatever needed to be done. Anita, like other VoteRiders organizers in Florida, Georgia, North Carolina, Pennsylvania, Texas and elsewhere, encourages volunteers – including those from other states – to dedicate some of their free time to help people qualify to vote in this year's critical election.
"We visit churches and organizations to give talks, we canvass, we do phone calls, we distribute literature," Anita notes. "When we find people who need assistance in getting their IDs, we guide them to get birth certificates, driver's licenses, Veteran's cards, tribal cards – whatever they need. We partner with other local organizations in our outreach to connect with more people and provide them with fact-based information and assistance."