'I Have Everything I Need Now' Says Georgia Voter
If there is one thing to learn from Denise Ellis, it's that laughter yoga can help you cope with stressful situations – like being at the DMV. 
Denise is a sixty-nine-year-old laughter yoga instructor who needed a new driver's license when she moved to Columbus, Georgia, in 2021.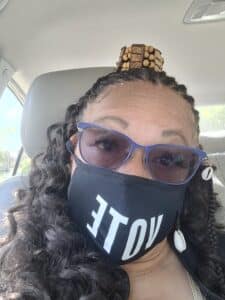 Unfortunately, her experience at the DMV reflects the bureaucratic and costly maze that traps far too many Americans who need something as simple as a plastic ID card to stay afloat. 
"I had been to the DMV three times already and had been turned away," Denise explained. "They wanted everything. Birth certificate, motor vehicle report, divorce certificate. Everything had a fee, but I didn't have a job, so I couldn't afford to pay those fees. If you're a poor person, you can't navigate through that."
The one piece of documentation Denise did have was her original birth certificate, but even that was rejected by the DMV representative.
"They wanted a birth certificate that costs money," said Denise. "I had the original with the little footprints on it. They could have taken my footprints and realized I was the same person."
Denise was close to giving up hope when she met Rev. Monica Spencer at a Muscogee County Board of Elections meeting. As the two women spoke, Denise mentioned how hard it had been for her to secure a new Georgia driver's license. Monica gave Denise her VoteRiders card and told her to give her a call. As VoteRiders' Georgia Organizer, Monica was the perfect person to help Denise get a new driver's license for free. 
It was smooth sailing from there on out. 
Monica helped Denise track down the various documentation she needed to prove her identity and covered all the fees. She also accompanied Denise to the DMV, which Denise found to be especially helpful. 
"Having support at the DMV was the biggest part because I was traumatized from being there so many times," she explained. "I kept going and trying but wasn't successful until Monica came along." 
After submitting the required documentation Denise finally received her new Georgia driver's license, which she can now use to apply for employment, access social service programs, travel, and vote. 
"You need an ID to live," Denise concluded. "I have everything I need now."