Expired ID leads to job loss and homelessness: Eric's Story
Written by: Erin Carden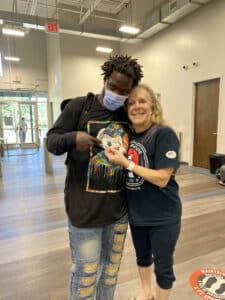 When Eric's boss offered him a promotion, he never thought an expired ID would cost  him the offer — and his job. 
But that's what happened to Eric, a young man who moved to North Carolina and began to build a new life for himself after successfully securing a new job using his then-current New York ID. 
After working for many years in the food service industry, Eric was offered an exciting new opportunity — a promotion to assistant manager. When it came time to fill out the required paperwork for his promotion, Eric's boss realized that his onboarding had never been successfully completed as his New York ID was now expired and he didn't have a second proof of identity. Eric's boss gave him some time to obtain these documents, but when he couldn't produce them, he was dismissed. His dreams of advancing in his profession were dashed, and without any form of identification, Eric was forced to work lower paying jobs where he was paid under the table. 
Devastated, Eric tried to piece his life back together, but his situation felt hopeless. To obtain his birth certificate and social security card, or even just to get a North Carolina ID, Eric needed at least one of the three. He tried, but didn't know what to do.
Fortunately, Eric's uncle heard that a local shelter offered ID assistance and he suggested Eric go there for help. That's where he met Pam Pearson, VoteRiders' North Carolina Voter ID Coalition Coordinator and Deputy General Counsel.
For one long year, Pam and Eric worked tirelessly together. Eric's situation was nowhere near straightforward. To start, Eric had been raised by his grandparents, but didn't know if he had been legally adopted. Also, his grandparents had a different last name than his mother, and he didn't know if his name had been legally changed and his birth certificate amended. His school and other records in New York had his mother's last name, but an application for a birth certificate in that name was rejected. The challenges grew greater when an application for a birth certificate with his grandparent's last name was also rejected, but no one would explain what the problem was. Pam reached out to a New York City lawyer to help, but the matter was delayed when he changed firms and files had to be transferred. 
Pam came up with one last strategy, which involved arranging for Eric to receive some government mail. With that, she would submit these documents together with an application which she submitted for his birth certificate. After more than a month of waiting, a large envelope arrived – with Eric's amended New York birth certificate.
Shortly after Eric received his birth certificate, a local non-profit nursing group did a wellness check and provided Eric with a document that would help him replace his Social Security card. The next day, armed with his birth certificate and Social Security card, as well as proof of residency, Eric went early to a local DMV office and walked out with a temporary North Carolina ID. Although this is an official document issued by the state of North Carolina, Eric knew it wouldn't count for much, so the waiting continued.
On Tuesday, September 13, Eric walked up to Pam when she entered the shelter for her regular weekly Voter ID clinic. Smiling, he held up his permanent North Carolina ID and embraced her in a big hug. 
"Eric shared that he's back at his old job — doing a two-month refresher to get him up to speed — and then he'll be in line to take a course to become an assistant manager," Pam said. "He feels like his life is finally back on track and he'll be able to move forward. He credits this all to VoteRiders and how we never gave up."