'It's a Very Rewarding Way to Volunteer,' Says Florida VoteRiders Volunteer
Like many Americans, Helen Peeples secured her first government-issued identification, a driver's license, when she first learned how to drive at just 16 years old. 
But this is not the reality for millions of other Americans. 
As of 2020, nearly 29 million voting-age U.S. citizens lacked a non-expired driver's license. And recent reports reveal that young Americans are driving at steadily declining rates, with the trend likely to continue. 
With a lifetime of volunteer experience, Helen knows just how important identification is for basic survival and the ability to participate in our democracy. 
Helen Peeples joined VoteRiders in 2020 after two of her friends — both VoteRiders volunteers — introduced her to the organization. As a retired sales and marketing representative who has spent the majority of her life volunteering with various organizations including land trusts, food pantries, homeless shelters, and voter registration groups, Helen was drawn not only to VoteRiders' social justice focus and pro-democracy mission, but also to its strong organizational structure and ability to make substantial contributions to underserved communities.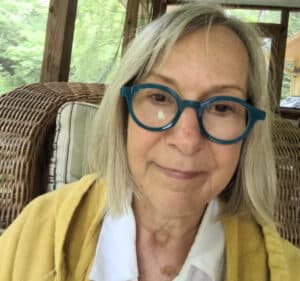 In her role as an on-the-ground "Super Volunteer" in Saint Petersburg, Florida, Helen helps voters schedule DMV appointments, arranges free transportation for them to and from the DMV, accompanies them to their appointment in case any issues arise, and covers the cost of their identification and any underlying documents with a VoteRiders expense card. 
Aside from the logistical help Helen provides to VoteRiders clients, she also spends quite a bit of time talking with them and listening to their stories — her favorite part of the volunteer work. 
"One thing that VoteRiders gives a volunteer that's unusual is the opportunity to truly be with the client one-on-one and to have a conversation with them," she explained. "In my day-to-day life, I would not meet this population and have the opportunity to have a conversation, to understand the obstacles and the positive things in their life. It's really a very rewarding way to volunteer."
As a volunteer for various organizations throughout her life, Helen has witnessed the many challenges individuals can face when it comes to getting the ID they need to vote, apply for jobs, secure housing, access life-saving medication, and so much more. 
"It's important to understand that the chaos in their life prevents a lot of good things from happening," Helen said. "I help them organize just a little bit of that chaos with an ID, with a job, with a place to live — just the little steps at a time are amazing." 
Some communities lack government-issued identification at particularly high rates, especially voters of color, young people, and low-income Americans. Of these groups, Helen has worked the most with low-income returning citizens who lost access to their ID while incarcerated. 
"They pretty much don't have anything," she explained. "Clothing is an issue, food is an issue, where to live is an issue. And an ID is the start of a lot of these things." 
Helen also works closely with people experiencing homelessness who need an ID so they can have a free meal at a shelter, access housing services, and apply for employment. 
"I've helped people who couldn't do a job interview without an ID," Helen said. "I've helped people living in tents at homeless shelters who couldn't graduate to a dorm room without an ID. I also worked at a food pantry and the first thing I had to say was, 'Can I see your ID please?' If they didn't have one after the second time they visited then guess what? I'd have to tell them, 'I'm sorry, but you don't get your food today.'" 
And of course, in addition to using identification for basic survival, Helen helps clients secure a new ID so they can vote and have a voice in the decisions that will shape their future. In Florida, photo identification is required to vote, and for many of the transgender voters Helen has worked with, voting is at the top of their priority list. 
"I've helped people who are transitioning," she explained. "And they've said, 'I've got to get this ID so I can vote and make things easier for us.' " 
No matter what a client's reason is for needing identification, Helen speaks to every person she works with about the importance of voting. 
"To everybody I help, I try to make the point that if they don't vote, they're trusting me and everybody else to vote for them," Helen said. "I tell them that it's something they really need to consider doing for themselves." 
For those who are interested in supporting pro-democracy organizations and looking for ways to make a meaningful impact in their community, Helen is a vocal supporter of VoteRiders' volunteer program. 
"I think it's an extremely rewarding volunteer gig," she exclaimed. "I've done a lot of different volunteer stuff, and this is really great. You get an opportunity to be with many different people from many different walks of life who all have a story and who are so grateful for your help."
VoteRiders depends on our volunteers to help us ensure that every eligible voter can get the identification they need to flourish. Check out our current volunteer opportunities and learn how you make an impact.