Honoring National Latinx Heritage Month
VoteRiders' Digital Communications Coordinator, Erin Carden, speaks with VoteRiders' National Outreach Director, Selene Gomez, about what VoteRiders is doing to celebrate National Latinx Heritage Month, the importance of calling out the systemic structures that silence Latinx communities in the United States, and how we are working together to build a stronger and more inclusive democracy. — October 5, 2023
Tell me about yourself and your role at VoteRiders.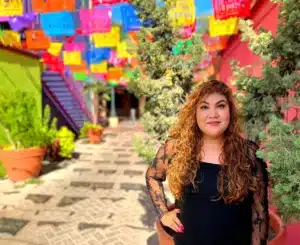 I'm Selene Gomez, I'm the daughter of immigrant parents from Guadalajara, Jalisco, Mexico. I'm the oldest of 4, and I was raised in Los Angeles, California. I did my higher education in Texas, which is where I am now, in San Antonio. I received my undergraduate degree from Texas A&M University College Station, and I got my master's from UTSA. I'm currently working on my Ph.D. in Applied Demography from UTSA as well. 
I've been working in the civic engagement space since I was an undergraduate student. That's when I started getting civically involved because I started to see how a lot of the institutions and systems were affecting my community.
Within the advocacy space, I've focused on immigration, education, voting rights, and other issues as well – especially those that affect my community. And now I'm with VoteRiders. I've been with VoteRiders since July of 2018. It's hard to believe that it's been that long already, but it has! 
I first started at VoteRiders as the National Volunteer Manager. Since 2019 I've served as the National Outreach Director where my main role is to spark and maintain partnerships with national organizations. I also maintain statewide and local partnerships here in the state of Texas. Now I'm focusing more on the national level and managing all of the coordinators that we have in all of our priority states. Even though I have a specified role, as part of a growing organization, we all wear multiple hats. I really enjoy that I'm able to give my input to other areas of the organization and help it grow. 
What is Latinx/e/a/o Heritage Month? How is VoteRiders honoring this month? 
Latinx Heritage Month — or Latine, Latina, Latino, Hispanic Heritage Month, however you prefer to refer to it — is a specified time to celebrate the different cultures of Latin American countries and to showcase — even though for us it's a year-round celebration —  those specific cultures. It's also an opportunity to educate those who don't identify as part of any of the Latin American countries about our culture and also about the struggles, oppressions, systemic barriers, racism, xenophobia, and other injustices this community faces on a daily basis.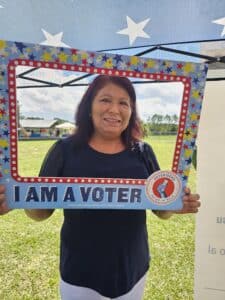 To celebrate Latinx Heritage Month, we're joining partner organizations and participating in cultural events that are being incorporated into our general services and resources. This month also overlaps with GOTV efforts as there are some state and local elections coming up. 
But Latinx Heritage is something we honor year-round by making sure our tools and services are bilingual. We invest our time and resources not only in translating and providing these services but also in providing quality translations that can truly connect with people — more than just conversationally. We also reach out to organizations that work with intersectional groups within these communities — people who don't speak English, mixed-status families — communities that are most impacted by restrictive voting laws and any policy on the federal, state, and local levels. 
And while it's important to celebrate and uplift Latinx Heritage Month, we need to also emphasize the xenophobic and racist systems in place and take this opportunity to highlight how voter ID laws are negatively impacting this specific population. 
How are Latinx communities affected by voter ID laws & other voting restrictions?
The Latinx community is affected by voter ID laws and other voting restrictions in every way. Any voting law that you could think of disproportionately and negatively impacts Black, Indigenous, and people of color (BIPOC). And it's not coincidental, unfortunately. A lot of BIPOC communities don't have acceptable ID to vote. When we think about youth, for example, we automatically think of college campuses, but that's not where you're going to find most Black and brown youth. A lot of them are going straight into the workforce, technical schools, or pursuing other avenues, so they often don't have that identification to vote, or even have an opportunity to learn how to get the kind of ID they need to vote.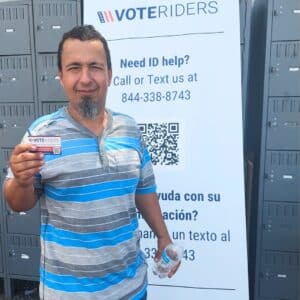 Also, if you're a young person in a mixed-status family, it can be harder for you to obtain your driver's license. In Texas for example, if you want to take your road test, you must provide a vehicle and insurance. If your parents don't have a driver's license themselves and you don't have any other way of obtaining a vehicle with valid insurance, you can't take the test. 
Voter ID laws are not the only voting restrictions that affect the Latinx community — all voting laws do.
For example, accessibility to the polls is a big issue. Recently in Texas, a 24-hour polling location in Harris County was challenged. A lot of polling locations don't have accessible hours for people who have multiple jobs and work odd hours, not to mention that a lot of these people are surviving paycheck to paycheck and voting is not necessarily a priority for them because they're in survival mode.
What effects do these voting restrictions have on the Latinx community? 
When there is no representation for a community, there is no one to advocate for them when policy is being drafted, negotiated, and passed. When there is no access to this, communities also suffer in other areas like health, economy, education, nutrition, accessibility to benefits, assistance programs, mobility, incarceration/criminalization, and so much more, which contributes to a cycle of oppression and disenfranchisement. 
It can also be demoralizing and make voters feel like less important members of society compared to other U.S. citizens. This will all have a strong effect on voter turnout overall, especially in states like Texas, where Latinx voters are already the majority and will be the majority voting bloc in a few years. 
What is VoteRiders doing to make sure Latinx voters have everything they need to participate in our democracy? 
VoteRiders eliminates barriers to the ballot box. In 38 states, you need an ID to cast a ballot. As I mentioned before, some people are working multiple jobs just to make ends meet, so if a state has a voter ID law and you don't have an acceptable ID to vote, you'll need to take time away from your job — which often means losing income — to go through the bureaucratic process of getting that ID. And you have to pay additional fees if you don't have the documents that you need to secure your ID — like a birth certificate or Social Security card.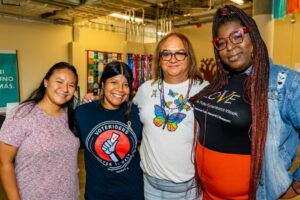 So VoteRiders covers the fees that voters across the nation need to pay in order to exercise their fundamental right to vote. 
And we don't just provide direct assistance, we also make people aware — especially new citizens — of the voter ID requirements in their state. We have tens of thousands of people who become new citizens every year, so we make sure they understand how the democratic process works in the United States and actively incorporate them into it so they can be contacted by campaigns and other organizations. And while, yes, a lot of new citizens may understand English, it's not necessarily their primary language, so making sure they have the information in the language that they're most comfortable with is very important because then they also feel empowered and more inclined to trust you and feel comfortable asking questions when a piece of information is not clear. 
How is VoteRiders working with community organizations to make sure Latinx voters get the ID they need to vote? 
The primary reason we work with partner organizations is because these organizations are already trusted messengers within their community. So, when we're working with partner organizations that focus on specific demographics — such as Latinx voters — we know that we can provide voter ID assistance because our partner is already trusted in that community.
It's really important that our partners understand how our free voter ID resources can help enhance all of the amazing services they're already providing to their constituency.
We work with the most vulnerable populations which means that a lot of people are going to be first-time voters and we know that first-time voters need to have a positive experience casting their first ballot because if they don't, the chances of them going back a second, third, fourth time is slim to none. So we have to all come together to make sure every voter feels empowered and confident.
Oftentimes unfortunately, poll workers are undertrained and are sometimes misguided so it's important for voters to understand their rights and the resources that are available to them in their state so they can advocate for themselves. 
At VoteRiders, we work with other organizations tirelessly to ensure that the most vulnerable voters are able to exercise their right to cast a regular ballot for a strong and representative democracy. The Latinx community, the fastest growing population in the U.S., is an important voting bloc. These communities need to be engaged to ensure political representation is proportional to our country's overall population — not just in appearance, but in values. And it's up to all of us to advocate for the issues that are affecting these communities every day. 
_________________________________________________________________________________________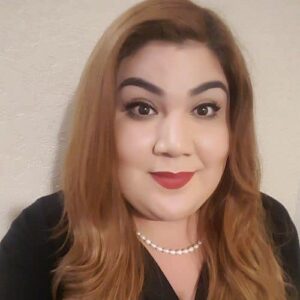 Selene M. Gomez, MPA, serves as VoteRiders' National Outreach Director, having previously served as the organization's Texas Voter ID Coalition Coordinator and National Volunteer Manager. For four years prior to her joining VoteRiders, Selene worked with Mi Familia Vota Education Fund to increase Latinx voter turnout through voter registration and education, citizenship programs, and GOTV campaigns.