The Power of Partnerships - Working Together To Help Americans in Need
Written by: VoteRiders
By Pamela Pearson, National Voter ID Assistance Director, North Carolina Voter ID Coalition Coordinator and Deputy General Counsel at VoteRiders — August 9, 2023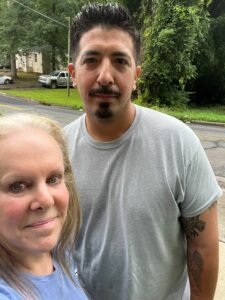 Alexander reached out to VoteRiders in early June 2023 after hearing about our free ID services through Community Transitions, one of our North Carolina based partner organizations. He had just been released from prison and he needed an identification and Social Security card to apply for employment. As VoteRiders' North Carolina Voter ID Organizer, I took the lead on his case. 
When I first spoke to Alexander on the phone, I could tell he had clear goals for himself. He knew all the steps he needed to take to find a stable job, and he was also aware of the timing by which he would likely need to have his identification and Social Security card in hand. He was determined to get these documents as quickly as possible.
I assured him that I would give him the free, hands-on support he needed to get back on his feet. 
While it had been several years since Alexander had an ID, he had been a North Carolina DMV customer in the past. Unlike other states, North Carolina does not require people whose IDs have expired to bring in all of their identifying documents again. In most cases, the North Carolina DMV already has those documents scanned into their system and the customer simply needs to provide identifying information. 
Fortunately for Alexander, he was easily able to order a renewal identification card. He left the DMV office with a temporary North Carolina ID and received his permanent identification in the mail less than two weeks later. Once he received his permanent ID, he called me to let me know he was ready for the next step: ordering his Social Security replacement card. 
I ordered Alexander a free ride via our partner Uber to a virtual Social Security Administration clinic hosted by VoteRiders' partner, Roof Above at the Day Services Center in Charlotte. Alexander answered identifying questions and showed his ID via the video camera. The Social Security examiner was then able to confirm his identity and successfully placed an order for his Social Security card.
Next up: replacing Alexander's birth certificate so he could secure safe and stable housing. 
Because Alexander was born in California, he was required to sign a document authorizing the state to order his birth certificate. After days of corresponding over the phone, I finally met Alexander in person so we could complete the form together. During our brief meeting, Alexander told me about the goals he established for himself while he was incarcerated, which explained the focus and diligence he showed in making sure he was doing everything he could to set himself up for success. 
Alexander is now working with another VoteRiders partner, the Center for Community Transitions (CCT), which has offices at the Charlotte Goodwill Opportunity Campus. CCT is helping Alexander identify his skillset and offered to help him prepare for employment. CCT will also soon have job opportunities that Alexander can apply for. 
Although Alexander cannot vote in North Carolina until he has completed his probation/parole, he is aware of his rights and he plans to get registered to vote as soon as he can.
Alexander's story illustrates the power of VoteRiders' partnerships. At VoteRiders, we work with thousands of organizations to bring ID information and assistance to voters across the country. We work with local DMVs (in North Carolina and other key states) to get people the identification they need to vote, find housing, apply for jobs, access medical care, and more. We partner with Uber to provide eligible voters with free rides to and from ID-issuing offices. We work with employment-focused organizations —  like CCT — get-out-the-vote groups, law firms, churches, schools, healthcare providers, libraries, athletic organizations, direct service providers, corporations, and more.
Our work would not be possible without our ever-growing partner community. Together, we're changing lives and protecting our democracy.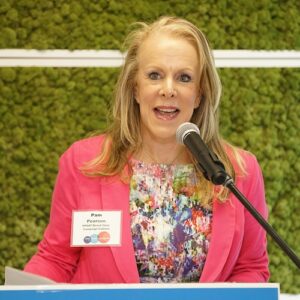 Pam Pearson joined VoteRiders in 2020. She began as the organization's first General Counsel and North Carolina Coalition Coordinator, and now also leads VoteRiders' voter ID assistance programs and strategies. Previously, Pam served as a senior in-house litigation attorney for 25 years and led teams of legal professionals at one of the country's largest financial services companies, where she was recognized for her collaborative leadership and management style.