Trans Woman Changes Legal Name with Help From VoteRiders
Written by: Erin Carden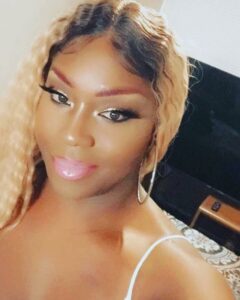 Transgender voters face significant barriers getting to the ballot box to cast a vote that counts. Chanel Riser's story illustrates the variety of problems the transgender community continues to experience in legally changing their names and getting an ID to vote that reflects their chosen name and gender.
Chanel — a 38-year-old hair stylist living in Detroit — was working with attorneys provided by the Ruth Ellis Center to change her legal name. But when the attorneys said she couldn't move forward with her petition, she didn't know what to do next. According to the attorneys, her file in the court system indicated that she had unpaid tickets on her record. When Chanel provided a clearance form from the local police department indicating that her previous fines had been paid in full and expunged from her record, they told her the documentation was still insufficient, and her name change petition was refused. 
Luckily, Jey'nce Poindexter, a transgender advocate at Ruth Ellis — a Detroit nonprofit that ​​provides trauma-informed services to LGBTQ+ youth and young adults of color — shared that she had recently been in a similar situation before receiving help from VoteRiders. Jey'nce shared Chanel's phone number with the staff member who assisted her — Tracy Pease — and within two days, Tracy was calling Chanel to discuss next steps. 
"Tracy has been nothing but a good help ever since," Chanel explained. "She really was on it." 
Tracy scheduled Chanel's courthouse appointment to file the necessary paperwork as well as an appointment to get her fingerprints taken for her name change petition. She also arranged Chanel's transportation to and from each appointment, and covered all expenses involved in the name change process. For any roadblocks they came across, Tracy spoke up and refused to take "no" for an answer. 
"She doesn't let people run over her," said Chanel. "On the first day, people at the city-county building were trying to tell her that we couldn't take care of the name change paperwork — that we were in the wrong place. She got the contact of the people she needed to call and she got on the phone and the next thing you know, we're getting the paperwork done and getting all the finances waived."
In addition to the logistical difficulties that come with changing one's legal name, Chanel also acknowledged the intimidation and discrimination many transgender women face when attempting to update vital documents like a name change or state ID. 
"It's always a hassle when it comes to resources and trying to help trans girls of color," Chanel said. "And I'm not just talking about something that I heard, I see it all the time. I just don't think it's fair that they give us such a hard time." 
Now that Chanel has successfully completed the name change process with help from VoteRiders, her worry that people may not respect her pronouns is fading. 
"I'll be more comfortable," Chanel explained. "Once your pronouns and your name are on your ID, there's nothing to worry about — it'll be like a weight lifted."
Securing an ID that is fully representative of a person's identity can also make voters feel more comfortable and empowered at the polls, where LGBTQ+ voters in every state deal with intimidating and discouraging bias, confusion, and inconsistent application of the law. 
Once Chanel's name change is finalized, she plans to connect with VoteRiders once again to secure her new Michigan state identification, a brand new ID that will serve to validate, support, and empower her identity.