North Carolina Resident Can Finally Secure Housing With New Copy of Birth Certificate
Written by: Erin Carden
JUNE 22, 2023
Thirty-eight-year-old Shakeena Benton didn't know what to do. After fleeing an abusive relationship and becoming homeless in Charlotte, North Carolina, she finally found safety at a domestic violence shelter run by Safe Alliance. But without a copy of her birth certificate to put on file, she was unable to apply for low-income housing, and her days at Safe Alliance were running out.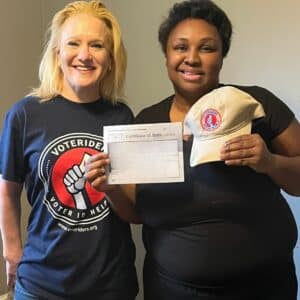 Thankfully, Shakeena's hope was restored when she learned that VoteRiders could help her get a copy of her birth certificate and Social Security card for free. 
Shakeena met VoteRiders' North Carolina Organizer Sabrina Mommers at a VoteRiders Voter ID Clinic hosted at Safe Alliance. After Shakeena described her pressing situation, Sabrina reassured her and explained that she would help her secure everything she needed to get back on her feet and find stable housing. She tracked down Shakeena's birth certificate, ordered her a copy, and paid the fees. 
One week later, Shakeena received her birth certificate and Social Security card in the mail. With these vital documents in hand, she now had everything she needed to find safe and secure housing. 
Next Shakeena will work with VoteRiders to secure a new North Carolina driver's license. Given the state's new voter ID law, Shakeena may be able to use her new identification for voting as well. 
"VoteRiders is a very helpful program," Shakeena said. "I will recommend VoteRiders to everyone, VoteRiders is wonderful."