Volunteer Highlight - Yaretzi Perez, Florida
April is National Volunteer Month and VoteRiders is honoring all of our dedicated volunteers who work so hard to help us ensure that every eligible voter has the ID they need to make their voices heard!
When Yaretzi Perez asked community members living in a low-income area of Central Florida why they didn't have an ID, many of them told her that they simply couldn't afford one. Most of the people Yaretzi met had never heard of VoteRiders. They had no idea that there is an organization that helps eligible voters secure identification for free. 
Yaretiz wants to change that. 
Yaretzi is a 26-year-old graphic designer from Central Florida who enjoys painting. She's also an active volunteer with democracy groups and organizations serving immigrant communities. In 2021, Yaretzi's friend, Eli Garcia, landed a job as VoteRiders' Florida Organizer, and she gave Yaretzi some insight into the critical work VoteRiders does to ensure every eligible voter has the ID they need to exercise their fundamental right to vote. Having previously volunteered as a voter registration canvasser, Yaretzi was aware of the voter education and participation gaps in low-income communities and she wanted to help Eli bridge this divide in her organizing work.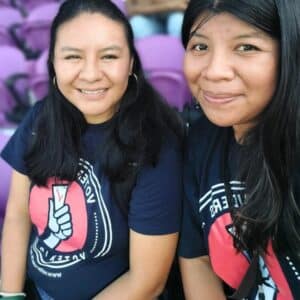 "A lot of people were discouraged from voting for many different reasons," Yaretzi explained. "I knew it was important to let them know that there are resources out there that can help." 
Florida voters need to show photo ID at the polls, so Yaretzi kicked off her VoteRiders volunteer role by calling and texting voters in Central Florida to see if they had the right ID to cast a ballot. When she connected with someone who was in need, she helped them schedule an appointment at the DMV and made sure they had other required documents, like a social security card and a birth certificate. Yaretzi's role as a virtual volunteer soon shifted to an on-the-ground "Super Volunteer" position where she met with community members and helped Eli provide voter ID information and assistance to voters at in-person Voter ID Clinics. 
Yaretzi knew she would be helping Florida voters get an ID, but she was not aware of the extent to which living without an ID can impact people. As a "Super Volunteer" at Voter ID Clinics, Yaretzi began to assist folks who needed an ID not only to exercise their right to vote but also to fulfill basic survival needs. 
"People who are homeless may need an ID to stay in a shelter," Yaretzi explained. "People who have moved from another state and lost their documents need a new ID. People also need an ID to prove their identity when applying for a job." 
Having the ability to make a real difference in individual lives and in her community has continued to fuel Yaretzi's dedication to VoteRiders' work. 
"Seeing the big difference this work makes is why I've continued volunteering for VoteRiders," she said. "It's always really gratifying because, at the end of the day, I know I helped them.
As a committed volunteer, Yaretzi wishes she could dedicate more time to her work with VoteRiders, but with a full-time job, spare time can be scarce. When she can't volunteer herself, she spreads the word about VoteRiders' important work and lets others know how they get involved too. 
Yaretzi and Eli helping a FL voter secure a free ID
VoteRiders offers a variety of volunteer options that are critical to growing our reach and providing voters with ID information and assistance.
Your support is essential. Join us!