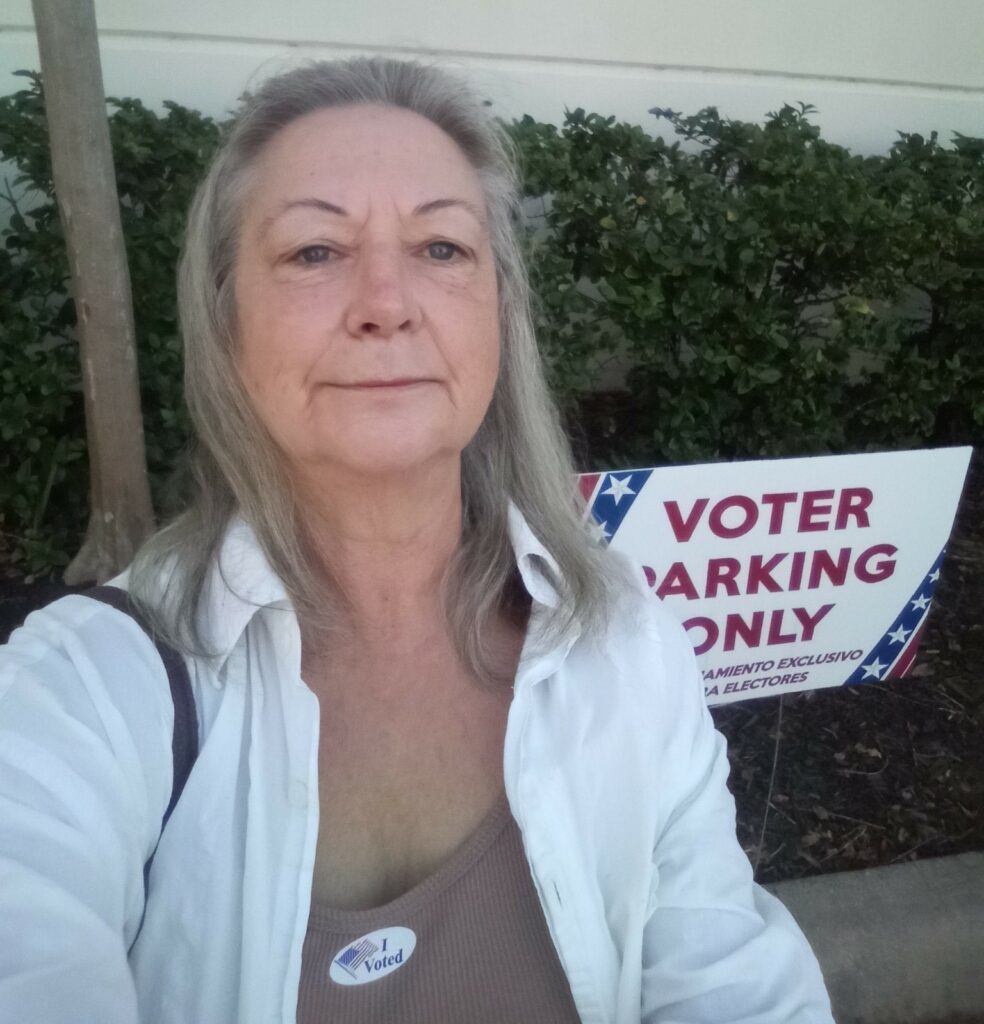 Voter ID Story: Displaced by Hurricane Ian, Mercedes Gets ID and Votes
Mercedes Daniels had given up on voting in Florida's midterm elections. 
Even though she'd finally gotten her Florida ID to vote with the help of VoteRiders earlier this year, she was displaced by Hurricane Ian in late September and couldn't afford to make it back to the polling place where she's registered to vote. 
But hope returned when VoteRiders called with a reminder to vote and to ask if she needed help getting to the polls. 
"Jazlyn Gallego called me and said, 'We can get you down there.' I was like, 'Really?! I'll absolutely vote tomorrow morning!'" Mercedes recounted. "The next morning they sent me a Lyft to take me to vote. It made my day. It's so important to me as a citizen to fulfill this duty. Thank you very much, Lyft and VoteRiders."
This year, thanks to donated rideshare credits from Lyft and other partners, VoteRiders has provided thousands of voters with free rides to and from ID-issuing offices. Once they have their IDs in hand, our staff and volunteers follow up to do everything we can to get these same voters the information and assistance they need to get to the polls.
"One of the key barriers voters often face in getting an ID to vote – transportation to the DMV – is the same when it comes to voting," explained Lauren Kunis, executive director of VoteRiders. "We're proud to be putting extra effort into helping the voters we assist with ID all year long to cross the finish line and vote."
Mercedes, 59, first received voter ID help from VoteRiders earlier this year, which is why  Jazylyn, VoteRiders' Florida Voter ID Coalition Coordinator, contacted Mercedes as part of regular follow-up calls to Florida voters we've assisted with ID. Earlier in 2022, Mercedes came across VoteRiders' website while searching for ways to get a new Florida driver's license, as her previous license from Connecticut had expired. 
"VoteRiders got me to the ID-issuing office and paid for my new ID," Mercedes said. "I'm eternally grateful because I really need my driver's license."
Mercedes' driver's license is essential to her livelihood. For the past 10 years, her RV has functioned as her home. While she typically works on the land her RV is stationed on, Mercedes was forced to evacuate her previous location as a result of Hurricane Ian, the deadliest hurricane to hit Florida in 87 years. 
Not having a permanent address has made voting difficult for Mercedes. In 2020, when she first attempted to register to vote in Florida, an election official told her she would need a permanent address to put on her driver's license. 
"So I said, 'don't homeless people get to vote?'" Mercedes recounted. "And then they paused and said, 'Yes, if you're homeless, your address on your license is 'general delivery' with the same zip code as the courthouse. For your address on your voter registration, you can put room #117 at the courthouse.' So I put that on my registration. I know people who are homeless and they don't realize you can vote. You can, and don't let them tell you otherwise."
VoteRiders works to ensure that all eligible voters can use their voices in every election. Mercedes' fierce determination to fulfill her civic duty and cast her ballot is an inspiring reminder of the importance of protecting our democracy and safeguarding every citizen's right to vote.