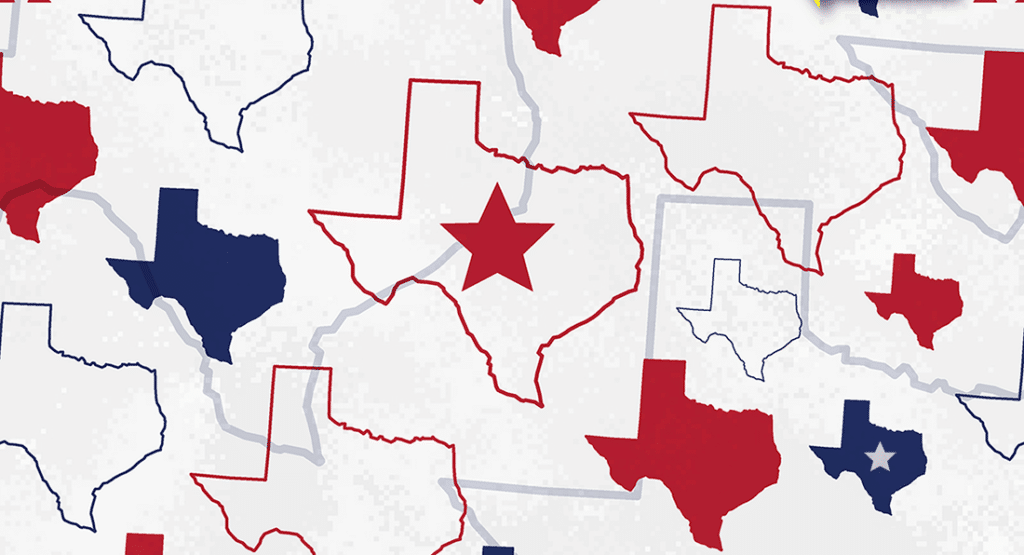 Turning Out Young Voters in the Rio Grande Valley
By Cesar Rios, Texas Turnout Community Field Organizer 
We must instill the importance of civic engagement in our youth community in the Rio Grande Valley. But we also know that confusing and changing laws around voting in Texas have created powerful barriers to the ballot box in recent years and that youth are particularly hard-hit. That's why we're committed to being part of the solution, along with a growing number of partner organizations.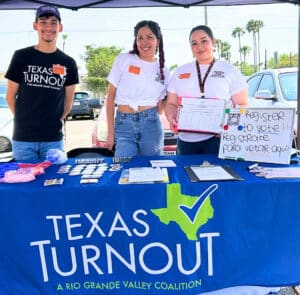 At Texas Turnout — a nonpartisan voting engagement and outreach coalition of nonprofits established to increase youth voter turnout in the Rio Grande Valley (RGV) of Texas — we know that high schools, universities, and local community events are the perfect places to engage with young voters and encourage civic engagement in our communities. In partnership with VoteRiders and other voting rights organizations, we increase youth voter turnout by visiting young populations living in big and small cities in the RGV and speaking directly to them about the importance of building strong community networks. By engaging young voters and talking to them about the value of voting on the issues that matter most, we can create the kind of change we want to see within our communities. 
Our RGV communities are low-income, under-resourced, and have higher poverty rates compared to other counties in Texas. On top of that, the RGV is still suffering from the harmful economic and health effects of the COVID-19 pandemic. But in the face of great hardship, the RGV has been resilient in their fight to prosper and make a better life for themselves and each other.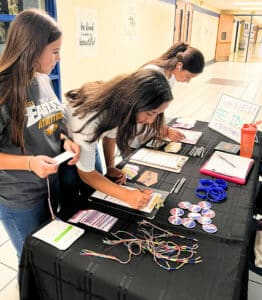 In partnership with voting rights organizations like VoteRiders, Texas Turnout has been expanding its coalition and ensuring that we widely share critical resources that encourage our communities to get out and vote. Texas voters need a photo ID to vote in person. Young people in Texas are particularly challenged by the state's ID laws, which do not include student ID as an acceptable ID for casting a ballot. With the help of VoteRiders, Texas Turnout has provided RGV community members with identification information and assistance so that every eligible voter has what they need to cast a ballot. High school students, parents, siblings, and abuelitas have all smiled when they're told that VoteRiders can help them get an ID and underlying documents for free. 
Having an ID is life-changing. In many cases, an ID is needed to vote, apply for a job, secure housing, access life-saving medical care, and so much more. With an ID, our RGV community members feel more comfortable and confident not only with the voting process but also simply walking down the street. Our border communities also need a valid ID so that they can easily identify themselves to the Border Patrol authorities when traveling. 
There are many obstacles to casting a ballot, but VoteRiders and Texas Turnout are diligently organizing in the RGV community to increase civic engagement and voter turnout. Slowly but surely, Texas Turnout and its non-partisan voting coalition of organizers are removing the obstacles for eligible voters to cast a ballot in the upcoming Special and General Elections on May 6th, 2023 – and also in every election after that.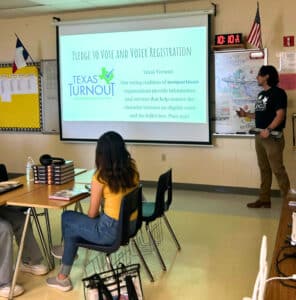 The upcoming May elections will be crucial for cities throughout the RGV. Each open position on the ballot has a significant stake in shaping the future of our schools, parks, businesses, social programs, local ordinances, taxes, and many other structures that make up our communities. 
Both Texas Turnout and VoteRiders have a shared pro-democracy vision that's vital for establishing healthy and prosperous communities. Along with city, county, state, and national partners, we encourage each other and ourselves to continually question how we are being governed. We remain alert and aware of the issues we face on an individual and collective level and we use every opportunity to cast our ballots and make our voices heard!
_______________________________________________________
We know millions of Americans need help with voter ID – but most organizations don't have the resources to answer questions or provide personal assistance. VoteRiders wants to be your partner in filling that gap
Our free tools and services offer the capacity to address voter ID issues through your organization's existing programs without adding to your budget.
Learn more about our partnership program and how we can work with you!