Washington Examiner: Ohio students say they never received mail-in ballot ahead of election
BY EDEN VILLALOVAS, BREAKING NEWS REPORTER, WASHINGTON EXAMINER — NOVEMBER 7, 2023
Ohio student voters, who are set to vote on the protection of access to abortion services in the state and the legalization of marijuana Tuesday, are reporting they never received a mail-in ballot.
"We're getting a large number of complaints that are really kind of centered around younger people on college campuses that are not receiving their mail ballots," Nazek Hapasha with the League of Women Voters of Ohio told the Washington Examiner.
"While we don't know the exact origin of the issue, we do know that in all of the instances that we're tracking, the board of elections has received the request and sent the ballot," Hapasha added.
Hapasha said while mail delays can be blamed partly for the problem, there is an additional concern, specifically on college campuses, of a "middleman" that further complicates the process. Each college campus has a central mail facility, but colleges often deal with their mail services differently.
Hapasha noted the organization has been in touch with Ohio's secretary of state to dig further into the problem popping up on various campuses such as Ohio State, Kent State, Oberlin College, and others.
Voters who have already mailed an absentee ballot can track it through an online tool provided by the state. Those who never received their mail ballot can go to their local polling place and cast a provisional ballot, which is the same as a regular ballot but won't be counted until election officials can verify the voter's eligibility.
"Part of the problem is that the Board of Elections tracking system doesn't sync with USPS tracking," Mia Lewis, associate director of Common Cause Ohio, told the Washington Examiner. "Part of it is that new voting laws make it much more challenging for voters because they may not have the required photo ID."
This year, Ohioans will weigh in on two major topics: Issue 1, a constitutional amendment to enshrine the right to abortion in the state, and Issue 2, the legalization of recreational marijuana. They are issues that hit home with younger voters.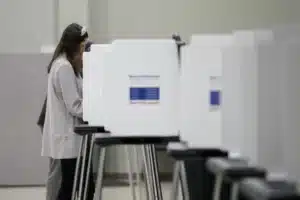 Generation Z and millennial voters have been bucking voting trends in recent years, showing up during nonpresidential elections in those that typically see a lower turnout. According to the Census Current Population Survey Voting and Registration Supplement, 28.4% of voters ages 18 to 24 cast a ballot in 2022, showing that young people are more engaged recently than in the past few decades.
However, college students are facing barriers to casting their ballot after the state passed one of the strictest voter ID requirements in the nation that went into effect this year. An Ohio driver's license or state ID card must be unexpired to vote, and it allows a passport to be presented. The new law eliminates all documentation without a photo, like a bank statement, government check, or utility bill, for in-person voting or registration.
"It should be an easy and convenient process," Hapasha said about encouraging students to vote by mail following the new voting laws. "For those students that are out of state students that don't have an Ohio photo ID and don't have a passport that they can use to vote, that's really the easiest way for them to vote because getting an in-state ID just to cast a ballot is really going to be inconvenient and it's a hassle."
VoteRiders, a national organization that helps voters obtain the proper ID, agreed the new voting laws negatively affect out-of-state student voters.
"Non-photo-ID options like utility bills provided by their schools, which many students used to use, are no longer accepted at the polls. If mail-in ballots were never received, these students may likely have been caught in a tough spot and left without any way to provide an accepted ID at the polls," Vashitta Johnson, Ohio Voter ID Coalition Coordinator for VoteRiders, told the Washington Examiner.
The updated measure poses a threat to out-of-state students who need to verify their identity before voting. Students can't use Social Security cards or a student ID to prove their identity, but passports or a military ID are acceptable when casting an absentee ballot.
"Anything that makes voting more complicated, intimidating, and confusing suppresses the vote, particularly for students, Lewis said. "Ohio could do a better job making sure that students have a positive experience when they vote for the first time. We want to encourage a new generation of voters, not make them jump through unnecessary hoops."
Read the original article here.