Holding Music Events to Support Democracy
By Roy Speckhardt, Development Director, VoteRiders — November 6, 2023
VoteRiders has a remarkable network of democracy activists and supporters who regularly provide fresh examples of their caring and creative ways to expand our outreach and draw in new folks to power our work. With that in mind, I'm pleased to share the story of two generous VoteRiders supporters from California who have perfected an innovative way to support our voter ID education and assistance so that every voter can cast a ballot that counts.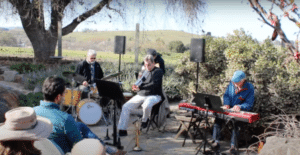 Terrigal Burn and Christine Johnson attended a series of community meetings about how to strengthen democracy when they heard from Kathleen Unger, Founder and President of VoteRiders. They discovered that while many communities and political parties make an effort to get people to the polls, VoteRiders offers a unique and practical way, on a national basis, to ensure voters have the ID they need to vote. Christine and Terrigal agreed that more attention needed to be paid to "the first step" in the voting process and wanted to do more than the modest donation they could individually muster. 
Having recently volunteered to play piano for a foodbank fundraiser that his drummer was doing at his church, Terrigal and Christine decided that his jazz band could independently perform a fundraiser for VoteRiders. 
And did they! To date, Terrigal and Christine have performed several concerts and raised significant support for VoteRiders as well as other wonderful charities. They based their fundraising efforts on trust and directed attendees to donate through VoteRiders' online donation page. When it came to promotion, Terrigal used his 400-person email distribution list (in addition to their neighborhood listserve) to inform his friends and fans about gigs that were at local parks, clubs, restaurants, and bars. Terrigal's YouTube videos (see and hear examples of their concerts here and here) also gave potential concert-goers a clear idea of what kind of music to expect. Christine and Terrigal are happy to have found a win-win solution to fundraising for one of their favorite defenders of democracy, all while informing others of VoteRiders' work and making music with friends.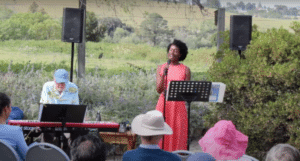 If you are musically inclined, or have a friend who is, or wishes to engage someone for a project like this, I hope you'll consider Terrigal and Christine's example. And please keep your creative ideas flowing and let us know so we can amplify them. We'd love to work with you to find a way to support VoteRiders with ways to give, ways to volunteer, and more. 
VoteRiders' strength is in our expansive network of people and partners who won't rest while millions of eligible voters are struggling to overcome barriers to accessing their fundamental freedom to participate in the democratic process.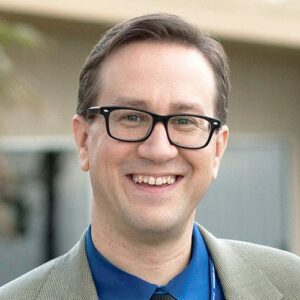 Prior to joining VoteRiders, Roy was executive director of the American Humanist Association, and before that, Deputy Director for the Interfaith Alliance. Early in his 25+ year career in nonprofit advocacy, Roy fundraised for various causes, including AIDS research and wildlife conservation. He is the author of two books, Creating Change Through Humanism and Justice-Centered Humanism.