Halfway through 2023, Voter ID Laws Are on the Rise. Here's How VoteRiders Is Protecting Our Democracy.
Written by: VoteRiders
By Ceridwen Cherry, VoteRiders Legal Director — June 28, 2023
As VoteRiders' new Legal Director, I'm tasked with monitoring changes to voter ID laws in states around the country so that we can provide continuously updated and accurate information to voters and our thousands of partner organizations. 
Here's the bad news: I've been really busy lately! Since 2020 and especially in 2023 so far, states have passed new or stricter voter ID laws at unprecedented rates.
These laws could prevent millions of eligible voters from casting their ballots and making their voices heard in elections this year and beyond.  
This month marks the ten-year anniversary of the Supreme Court's decision in Shelby County v. Holder. Before Shelby, nine mostly-Southern states had to notify the U.S. Department of Justice if they planned to make any changes to their voting laws because of their prior history of racial discrimination ("pre-clearance"). 
In 2013, the Shelby ruling struck down the pre-clearance protections previously afforded by Section 5 of the Voting Rights Act. As a result, states became able to change voting laws and policies without the pre-clearance that was previously required. We saw the immediate consequences of this ruling when, in the lead up to and immediate aftermath of the Shelby decision, five states previously covered by Section 5 enacted strict voter ID laws. 
In the decade since Shelby, I've dedicated my career to challenging restrictive voting laws because I believe our democracy is strongest when everyone can have a say in the decisions that impact and shape their future.
I have extensive experience litigating voting rights cases throughout the country, including challenges to voter identification and voter registration requirements. During this time, I've seen voting restrictions of all types proliferate, especially the expansion and tightening of voter ID laws. 
VoteRiders was founded in 2012, just before Shelby. In the 11+ years since our founding, the need for our work has grown enormously.
In fact, today in 2023, 52 million more Americans live in a state with a voter ID law than in 2012. These complicated laws disenfranchise millions of voters who lack ID and deter even more voters from participating in elections due to confusion.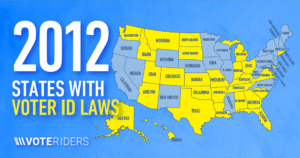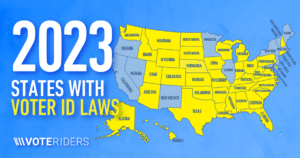 I started this post with some bad news, but here's the good news: I'm excited to be part of the quickly-growing team at VoteRiders that is dedicated to helping voters cast a ballot despite the rising tide of voter ID laws.
In my first months with the organization, I've seen how we're poised to make a real difference at a time when our work is more important than ever. 
An estimated 25 million voting-age Americans do not have a current government-issued photo ID. Voter ID laws disproportionately impact communities that are already underrepresented in our electorate: people of color, young adults, voters with disabilities, older Americans who no longer drive, unhoused individuals, returning citizens, low-income Americans, and voters such as married women or transgender individuals who change their names. 
The first months of 2023 were no exception to this pattern of increasing voter ID laws. In the first seven months of this year alone, new or stricter voter ID laws were adopted or went into effect in eight states:
The 2021-2022 period also saw the rapid passage of voter ID laws, with new or stricter ID laws going into effect in nine states: Arkansas, Georgia, Florida, Iowa, Missouri, Oklahoma, South Carolina, Texas, and Utah. The 2022 midterm elections gave us a preview of how these new voter ID laws caused confusion and disenfranchisement across the country. Layering new ID laws from 2023 on top of these, it's likely that–unless we act now–this trend will continue in elections going forward, particularly in the 2024 presidential election with its expected high turnout. 
As we head quickly into 2024, 38 states now have voter ID laws in place. These new laws have not occurred in a vacuum, but rather against a backdrop of a wide array of increasingly restrictive voting laws which will make all aspects of casting a ballot and having it counted more difficult. 
So what does all of this mean? For tens of millions of voters who go to cast a ballot in 2024, the voter ID rules in their state will have changed since 2020.
It's now harder, more confusing, and more expensive to exercise your freedom to vote due to the steadily-increasing number of new or stricter voter ID laws. For voters who do not have an acceptable ID for voting in their state, they must now expend time and, in many cases money, to acquire one of the accepted forms of identification. This burden will fall especially heavily on voters who do not have transportation to access an ID-issuing office, have a disability, or cannot afford ID fees.
Voters who do have the specific form of ID needed in their states will still have to navigate the changes in their state's voter ID laws. Many may be intimidated from casting a ballot due to confusion – particularly first-time voters and infrequent voters.
Since 2012, VoteRiders has been working tirelessly to make sure every eligible voter understands the voter ID laws in their state.
We provide free assistance to voters who need identification to vote, apply for a job, secure housing, access life-saving medical care, and more.  
At VoteRiders, we're already hard at work to ensure that voters in 2024 are prepared, empowered, and able to successfully cast a ballot – and we're going to be going strong every day through November 5, 2024 and beyond. We're working hand in hand with nonpartisan voter engagement groups, digital platforms, direct service providers, election officials, companies and brands, high schools and colleges, and more to educate voters about ID requirements and offer assistance in the states and communities that need us the most. 
VoteRiders depends on our supporters, volunteers, and thousands of partner organizations to help us ensure that every eligible voter can cast a ballot that counts. There are several ways to get involved and help us protect the right to vote! 
Donate

: Every dollar helps eligible voters get the ID they need to participate in our democracy. 

Volunteer:

Our volunteer program is essential to growing our reach and providing voters with critical ID information and assistance. 

Partner with VoteRiders:

Our free ID-focused

tools and services

can help your organization address voter ID needs through your existing programs without adding to your budget.
Together, we can address the challenges that voter ID laws present for our democracy. Let's get to work.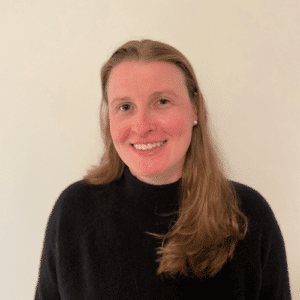 Ceridwen Cherry is VoteRiders' Legal Director. She has extensive experience litigating voting rights cases throughout the country, including challenges to voter identification and voter registration requirements. She is also a subject matter expert on the DMV and public assistance provisions of the National Voter Registration Act (NVRA). Most recently, Ceridwen served as Senior Staff Attorney in the Voting Rights Project at the American Civil Liberties Union.