VoteRiders Pushes Back Against Barriers to the Ballot Affecting Over 56k Returning Citizens in North Carolina
By Sabrina Mommers, VoteRiders North Carolina Organizer
VoteRiders encourages voter participation and helps Americans overcome barriers to the ballot by educating them about voter ID laws and assisting those in need of an ID to vote in communities across the nation. 
As VoteRiders' North Carolina Organizer, my main responsibility is helping clients secure identification and obtain copies of other important identity documents like birth certificates and Social Security cards. I also always ask whether the client is registered to vote in North Carolina. A common response is, 
"Oh, I cannot vote. I have a felony record." 
In some states, people who have been convicted of a felony lose their right to vote during incarceration and their parole and periods of post-release supervision. 
Other states also require returning citizens to pay fines and restitution before they can register to vote. In Virginia and Kentucky, those convicted of a felony can never exercise their freedom to vote. 
Requiring returning citizens to pay fines and restitution before exercising their right to vote disproportionately impacts low-income citizens and people of color, as Black Americans are incarcerated at disproportionately higher rates than White Americans. A large percentage of America's Black population can never afford to fully pay off the steep fines attached to their name after they re-enter society.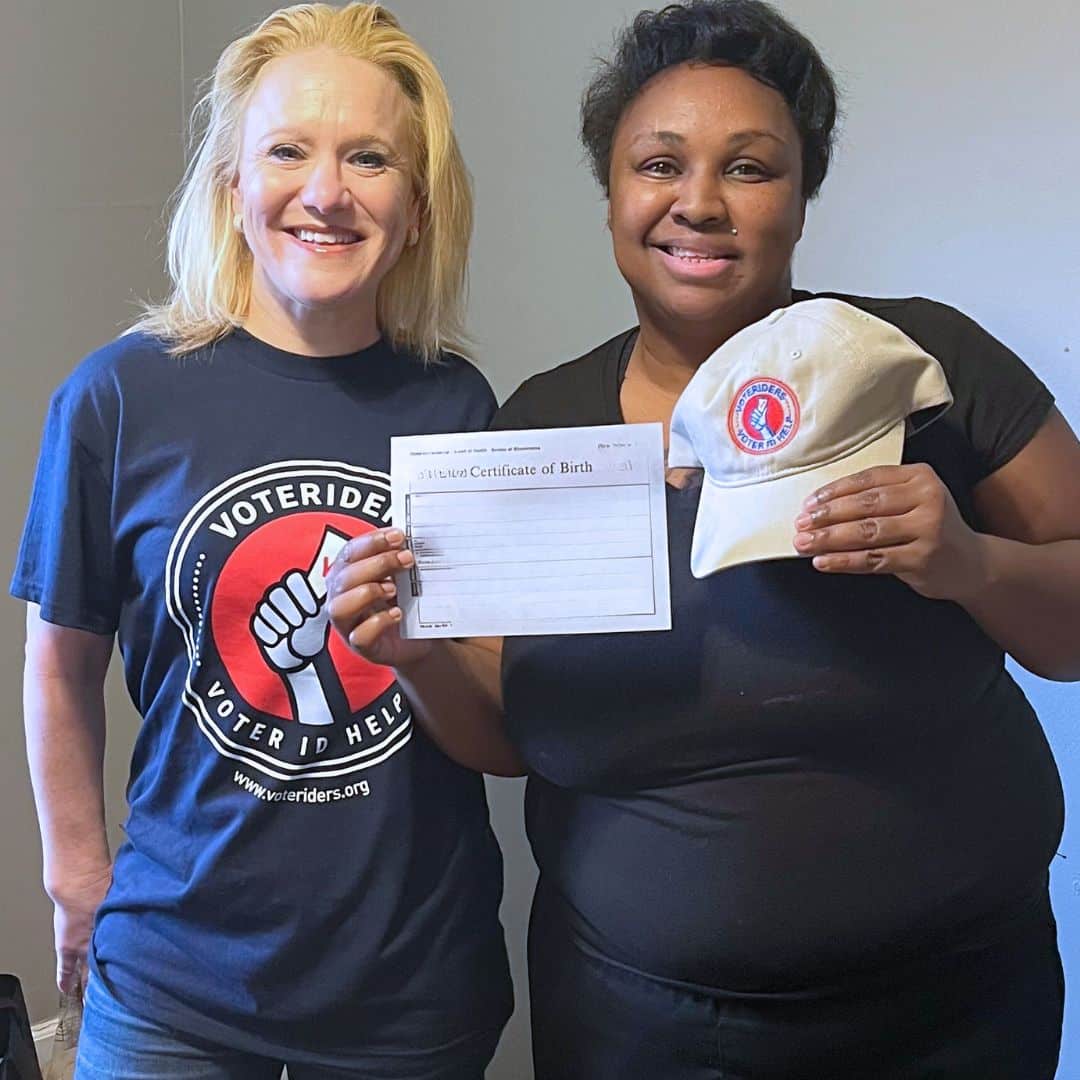 Regan Aduddell, a leader for the League of Women Voters of North Carolina, a VoteRiders partner organization, said:  
"Why is it that we constantly tell people, 'You have fulfilled your sentence and now can re-integrate into your community but, we will not allow you a voice on how your community is run, a voice on issues that directly impact both the recently released and their family.' The system is not trusted, and they feel they have no voice and no real role in the community. We need to continue to work to both fight these voter suppression tactics while at the same time, making sure that we can reach out and educate this population on their rights, and supply them with all the tools — like IDs, current voter registrations, and election information."
A historic voting rights case has been working its way through the North Carolina courts since 2019. In December 2019, Forward Justice filed a lawsuit on behalf of four organizational plaintiffs and six individual plaintiffs in Wake County Superior Court, seeking to reinstate voting rights for nearly 60,000 North Carolinians previously convicted of felonies, and who had their right to vote taken away under the felony disenfranchisement law.
In March 2022, North Carolina's lower courts determined that North Carolina citizens on probation, parole, or post-release supervision for felony convictions can exercise their right to register and vote. After North Carolina's 2022 Primary Elections, the Court of Appeals ordered the State Board of Elections (SBOE) to fully implement the trial court's March 28th final judgment and order, which found that the state's existing felony disenfranchisement law is unconstitutional and ruled that all individuals living in the community with prior felony convictions must be allowed to register and vote. 
This ruling has temporarily granted 56,000 returning citizens the freedom to vote in North Carolina.
Now, the case is before the North Carolina Supreme Court, which heard oral arguments on February 2nd, 2023.
At VoteRiders, our staff is dedicated to working with returning citizens to make sure they're informed of their voting rights. The graciousness of our donors, the hard work of our volunteers, and the tireless efforts of our dedicated staff all play a critical role in making sure every eligible voter has what they need to cast a ballot that counts. 
VoteRiders recognizes that economic hardship impacts Americans' ability to vote. Without an ID, many North Carolina residents cannot secure employment, access life-saving medical care, or solidify a safe, permanent place to live. 
With support from partner organizations, VoteRiders helps clients overcome economic, bureaucratic, and logical hurdles by providing ID information and assistance to underrepresented members of society who need an ID to apply for jobs, secure housing, access medical care, social security benefits, or vote for the first time. Donations from nationwide supporters give VoteRiders the ability to offer our clients free copies of their birth certificates, identification, and driver's licenses, as well as free transportation to the DMV.
An ID is something so simple and yet so crucial to everyday life. Having the ability to make income, to have access to life-saving medical care, to sleep in a safe and warm shelter, and to have a voice in the decisions that shape our future are all things that every American needs to flourish.
Voting rights are changing in North Carolina. Throughout the twists and turns in the state's legislation, VoteRiders remains steadfast in our mission to make sure every eligible voter has what they need to make their voice heard in our democracy.