Dayton Daily News: VoteRiders group helping Miami Valley voters with ID requirements, transportation
BY SYDNEY DAWES, DAYTON DAILY NEWS — OCTOBER 19, 2023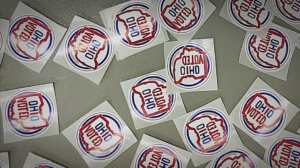 A national voter advocacy group is working in the Miami Valley to help Ohioans get the documents they need to vote in their local elections.
A new voting law that went into effect earlier this year created notable changes to in-person and early voting. Voters are now required to prove their identity at the polls by showing an unexpired driver's license, Ohio state ID card, passport or military ID.
"We want to make sure that every Ohioan who wants to vote can," said VoteRiders Ohio coalition coordinator Vashitta Johnson.
Montgomery County Board of Elections officials have reported that before the law went into effect, more than 95% of local voters used state-issued photo ID cards to vote in person.
But during the Aug. 8 special election, the elections board saw an uptick in people casting provisional ballots due to coming to their polling locations with expired IDs.
More votes were rejected in August than in November of 2022 in most local counties because of voters lacking proper identification as required under the new law, a Dayton Daily News investigation found.
In Ohio, state ID cards are free to people 17 and older. Ohioans can obtain a state ID card if they provide proof of the following:
Full legal name
Date of birth
Legal presence in the U.S.
Social Security number
Ohio street address
Legal name change (if applicable)
Johnson said her organization can help Ohioans obtain documents they misplaced or no longer have in their possession in order to get a photo ID. The group will also arrange for transportation for people who need to get to their BMV office.
Locally, VoteRiders has also been working with local nonprofits like the Westminster Presbyterian Church in Dayton to put information out about what ID is accepted at the polls and how Ohioans can vote.
VoteRiders found that people most immediately impacted by the change in voter ID law are Black and Hispanic voters, young Ohioans and college students.
People fleeing intimate partner violence or unsheltered people, too, have been negatively impacted by the new law, Johnson said.
Johnson through VoteRiders worked with a woman who came to Ohio with her four children, having to leave behind important documents like birth certificates and Social Security cards on the other side of the country.
Another person she worked with was experiencing homelessness and told Johnson that getting all the paperwork she needed to vote felt like "going in circles."
"It can be a really frustrating process and create more of a burden for people already going through a lot," she said.
Ohio's general election is slated for Nov. 7. Ohioans can call or text the VoteRiders helpline at 866-ID-2-VOTE (866-432-8683) for information and assistance about getting the ID they need to vote.
Read the original article.