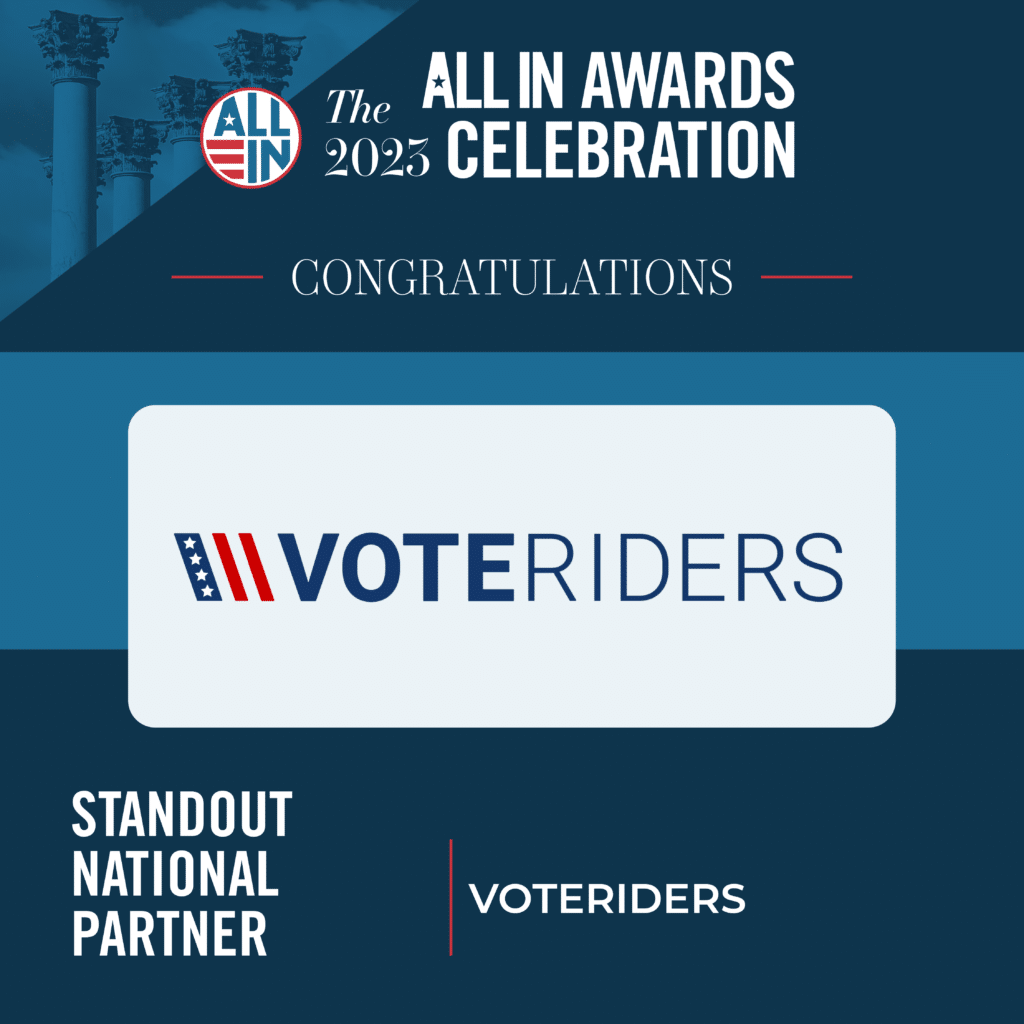 Forbes: Celebrating Student Voting Champions On College Campuses
BY CATHERINE FISH, CIVIC NATION, BRAND CONTRIBUTOR — NOVEMBER 15, 2023
This week, the ALL IN Campus Democracy Challenge (ALL IN) celebrated and recognized colleges and universities as well as students, faculty and staff, presidents and chancellors, coaches, partner organizations, and election officials for their nonpartisan efforts to engage college students in the 2022 midterm elections. These stakeholders helped ensure that college students across the country registered to vote and cast informed ballots despite nationwide attempts to undermine democracy through restrictive voting laws.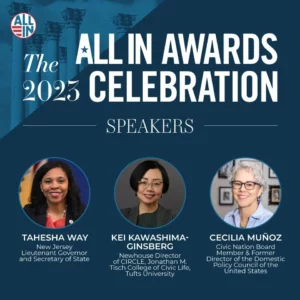 ALL IN believes in developing a more inclusive democracy. We envision a country where the electorate mirrors our country's makeup and college students are engaged in our democracy on an ongoing basis, during and between elections, and not just at the polls. The nearly 1,000 participating campuses in the ALL IN program are leading the way, helping us to reach these goals and realize this vision. Together, they are cultivating generations of engaged and informed citizens essential to a healthy and thriving democracy.
Fifteen awards were announced during the virtual celebration on November 14, including for standout faculty members, campus administrators, students and partners. Attendees were welcomed by Civic Nation CEO Kyle Lierman.
During the celebration, ALL IN recognized a set of individual campus stakeholders:
Chancellor Karrie Dixon of Elizabeth City State University (NC), a Historically Black University, and President Michael McDonough of Raritan Valley Community College (NJ) were recognized with our Standout President & Chancellor Awards.
Standout Faculty Awards were awarded to Jamie Lennahan, Associate Professor of Political Science, at Germanna Community College (VA) and Sanne Rijkhoff, Assistant Professor of Political Science, at Texas A&M University-Corpus Christi.
Melissa Baker-Boosamra, Associate Director of Student Life, from Grand Valley State University (MI) and Tedd Vanadilok, Director of the Center of Student Involvement, of Santa Clara University (CA), were awarded Standout Administrator Awards.
Two nonpartisan Student voting groups Huskers Votes Coalition at the University of Nebraska – Lincoln and DU Votes at Denison University (OH) were also recognized for their contributions to nonpartisan student engagement. Two partner organizations, Engage Miami and VoteRiders, were recognized with outstanding local and national partner awards, respectively.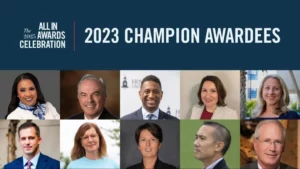 ALL IN strives to reach all parts of a campus, developing partnerships and recognition opportunities for those leading the charge of nonpartisan voter engagement in athletics. Awards for Standout Coach were presented to Kenny Blakeney, head men's basketball coach, at Howard University (DC) and Danijela Tomic, head volleyball coach, at Bowling Green State University (OH).
ALL IN campuses work with election officials to champion student voting efforts. ALL IN recognized Eric Fey and Rick Stream from the St. Louis County Board of Elections for their bipartisan efforts with our Standout Local Election Officials Awards.
New Jersey Lieutenant Governor and Secretary of State Tahesha Way was also recognized with ALL IN's Standout Secretary of State Award. ALL IN works closely with nine bipartisan secretaries of state to help their offices support and recognize nonpartisan student voting efforts, including California, Colorado, Maine, Michigan, Minnesota, New Jersey, Pennsylvania, Rhode Island, and Washington as well as nonprofit organizations in states and cities across the country.
The ALL IN Celebration is a moment to recognizethe hard work of growing and empowering young voters. One of ALL IN's speakers, Kei Kawashima-Ginsberg, the Newhouse director of CIRCLE, summarized the work still ahead to make our democracy truly representative. "Give young people access to civic opportunities, support them so they can take advantage of those opportunities, and build a culture that makes those opportunities meaningful and fun. And we have to do it together. There is work to do for all communities and institutions in the work of growing voters. Higher education can play a huge role, and we know many of you are already doing it." ALL IN looks forward to continuing to support participating campuses on their journey to foster cultures of engagement that do just this.
The full list of our individual champion award recipients can be found here; a full list of campuses receiving seals of recognition will be announced once the National Study of Learning, Voting, and Engagement reports are released by Tufts University's Jonathan M. Tisch College of Civic Life.
The ALL IN Campus Democracy Challenge congratulates all of our campuses for being all in for our democracy. To learn more about ALL IN or how your campus can get involved, visit allinchallenge.org.
Read the original article here.