Everything You Need to Know About North Carolina's Reinstated Voter ID Law & How VoteRiders is Supporting North Carolinians
Written by: Erin Carden
VoteRiders Digital Communications Coordinator Erin Carden speaks with VoteRiders National Voter ID Assistance Director & North Carolina Voter ID Coalition Coordinator Pamela Pearson about the North Carolina Supreme Court's recent ruling to reinstate the state's 2018 voter ID law, what this means for voters, and what VoteRiders is doing to make sure North Carolinians are informed and prepared. 
Last April, the North Carolina Supreme Court issued three major rulings that will change North Carolina elections. Can you walk us through what these rulings were? 
The court issued three rulings – one reinstated the state's 2018 law requiring photo ID to vote, the second concerned partisan gerrymandering, and the third involved the voting rights of formerly incarcerated people. 
Who will the photo ID law affect and how? 
These rulings will affect all eligible North Carolina voters – from long-time residents who have cast their ballots for decades and never had to show an ID, to new voters for whom registering to vote is just the first step, as they will now have to get one of the approved photo IDs to be able to vote. 
Can you summarize North Carolina's history regarding voter ID? 
The North Carolina General Assembly has attempted to put a photo ID to vote law in place twice – once in 2015 and then again in 2018. It's the 2018 law that's now in effect. 
The 2015 law was criticized on the grounds that the legislature allegedly used data from a study it commissioned in which it sought to determine what forms of ID voters of color were less likely to have, and then used that information to craft the list of acceptable IDs for voting. 
The law was in effect only for the 2016 primary and was then enjoined by the courts, meaning it could no longer be in effect. 
The 2018 law was almost identical to the 2015 law and faced similar criticism and legal challenges. 
The NC Supreme Court's recent decision means that photo ID will be required in NC for the municipal elections in fall 2023, and then going forward, including the 2024 election cycle. 
For some categories of IDs such as student IDs or government IDs, those organizations will have to apply to have their IDs approved by the State Board of Elections before they can be used as accepted photo IDs to vote.
When are these changes in North Carolina's voting law expected to take effect? 
The disenfranchisement of North Carolina returning citizens is effective immediately. 
The photo ID requirement is also in effect and will apply to all elections going forward, beginning with municipal elections this fall. 
However, the list of college or university IDs and state or local government employee IDs that will be accepted has not yet been released by the State Board of Elections so it may be some time before we know exactly what photo IDs will and will not be allowed for voting. 
Additionally, there remains the possibility that the NC state legislature will try to make additional changes to the types of ID that are accepted. 
What should voters in North Carolina know about this new law to make sure they're prepared to vote in future elections? 
VoteRiders' focus has always been to ensure that each voter has a state ID or driver's license, as these are the only two forms of identification that will always be on the approved list since they're issued by the state. 
What is VoteRiders doing on the ground in North Carolina to help voters? 
There are two groups of voters that will need information and perhaps assistance in order to ensure that they can cast their ballots. 
New voters will need to be informed that registering to vote is only the first step. Confirming that they have an acceptable photo ID will be critical. 
The second group of voters who will need information and assistance are existing voters who are most likely to be unaware of, or confused about the new voter ID law. 
Remember, they've been registered for years and except for one primary, they've never had to show ID to vote. VoteRiders has submitted an open records request to the State Board of Elections seeking a list of registered voters who do not have a current ID or driver's license in the hopes we can contact and assist those voters in getting an accepted ID.
How can people — both inside and outside of North Carolina — take action to help folks who may be impacted by these voting law changes?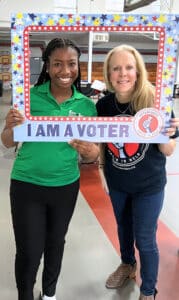 It's going to take many organizations, groups, and individuals to reduce confusion and provide clear, helpful information to North Carolinians about this dramatic change in the voting laws. 
VoteRiders is currently talking with other organizations about the best way to strategize around how to do this, and it likely won't be a "one size fits all" solution. In a perfect world, we'd have organizations that are already trusted sources in each community reaching out to inform people about the changes and offering ID assistance – either directly, (we'll train them) or referring people to us. 
What we don't want to do is bombard voters with repeated text messages and other communications that may confuse them or just have them shut down, so we need to plan carefully. 
Is there anything else our audience should know about North Carolina and these state Supreme Court rulings? 
Yes! While all voters will be asked to show ID at the polls, according to the North Carolina State Board of Elections website, "All voters will be allowed to vote with or without a photo ID. If a voter cannot show photo ID when voting in person, they can still vote by filling out an ID Exception Form. For absentee-by-mail voters, if they are unable to include a copy of their photo ID in their ballot return envelope, they can also fill out an ID Exception Form with their ballot."
Voters can find more information about ID exceptions by visiting the North Carolina State Board of Elections website.
There's still more to come. The photo ID law was originally enacted quickly during a lame-duck session, meaning it was enacted by the outgoing legislature after a new legislature had been elected. Some of the provisions of the 2018 photo ID law weren't clear or were overly complicated, and some have expired. So the NCGA needs to provide that clarification. 
Also, it's possible that the NCGA will enact new laws or revise the newly enforced law, perhaps even removing existing forms of acceptable ID. Additionally, the State Board of Elections has not released the complete list of accepted photo IDs, especially with respect to accepted student IDs and employer IDs. 
VoteRiders is keeping a close eye on legislative developments so we can make sure our messaging, including our website, has the most up-to-date information.