The Rockefeller Foundation: Building a Resilient Democracy, One Identity Card at a Time
Written by: Erin Carden
BY: MASHA HAMILTON – MANAGING EDITOR, THE ROCKEFELLER FOUNDATION — FEBRUARY 20, 2023
When a jobseeker shows up at the Waffle House in Columbus, Georgia, without an identity card, they call the Reverend Dr. Monica Spencer.
They know her at the local crisis center. And in her doctor's office, where she leaves her contact information. Even cashiers at the grocery store who overhear her talking in the checkout line know who she is. "Hi, Ms. Monica," they greet her.
She's a lady who will help you get state-issued ID card.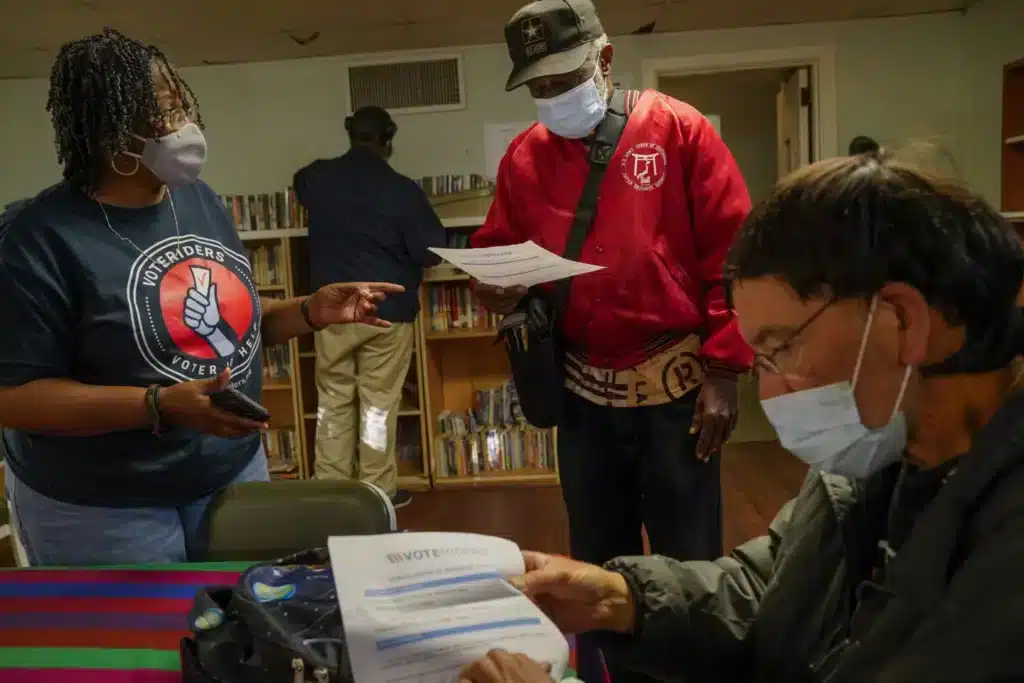 Just ask the mother of seven who fled her abusive partner, leaving her possessions behind. Or the homeless man, also without an ID, who thanked her for treating him like a human. Or the 51-year-old who used his new ID to vote in the state's 2022 election for the very first time in his life.
It's part of her work with VoteRiders, a nationwide nonprofit founded in 2012 to promote a resilient democracy by making sure no eligible voter is unable to have their ballot counted due to voter ID laws, which have rapidly been on the rise.
"I live, breathe and eat VoteRiders," says the Reverend, who grew up in Columbus and has been a pastor with the African Methodist Episcopal Church since 2000, with stints in Virginia and Jamaica.
"It's too bad that one's humanity is encased in a plastic card. But without an ID, not only can you not vote—you can't go to the hospital, get a house, or a job. If you are stopped by the police, you are headed to jail," said Dr. Reverend Monica Spencer. 
At a time when polls show U.S. voters believe democracy is in crisis, The Rockefeller Foundation is supporting the non-partisan VoteRiders through a grant to help its work with some 9,000 volunteers and more than 1,150 partner organizations across the country.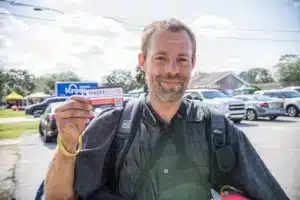 "Democracy doesn't happen every four years. It happens every day," said Khalid Pitts, The Rockefeller Foundation's Vice President, Communication, Policy and Advocacy. "When people don't feel a part of the process, either because of lack of information or barriers that limit their ability to participate, it creates a crisis. The Rockefeller Foundation, operating from a non-partisan basis, wants to support civic engagement to build resilient democracies."
Planting Seeds in Non-Election Years
Philanthropy, in fact, has an important role to play in helping fund organizations like VoteRiders, says CEO and Executive Director Lauren Kunis.
"It is easier for us to raise the resources we need around major elections," she said. "But it is just as important – if not more so – for us to do this work every single day, even during a so-called off-year. Philanthropy is essential to making that possible."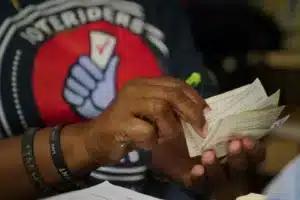 The sentiment is echoed by the Rev. Spencer. "It is extremely important to keep working in years when the ballot boxes aren't open," she said. "If we don't plant the seeds, we won't get a crop."
Georgia is one of 13 states that enacted new or stricter ID laws in 2021, requiring voters to present one of a limited set of documents. The state has one of the strictest photo ID laws; others are Arkansas, Indiana, Kansas, Mississippi, Tennessee and Wisconsin. Many other states are considering voter ID measures this year.
Supporters say an ID requirement is aimed at preventing voter fraud. VoteRiders and other voter rights advocates note that in-person voter fraud is extremely rare, and see the requirements as potentially disenfranchising or discouraging voters.
The number of voters at risk is not small. "Some 25 million American have no current government-issued photo ID," said VoteRiders Founder and Board Chair Kathleen Unger.
The reasons? First, the process to obtain an ID or replacement can be complicated and time consuming. The Rev. Spencer says the first step for her is often working to track down and obtain a certified copy of a birth certificate. A number of states require submitting an ID to obtain that—clearly, a Catch-22 dilemma.
And then, an ID and supporting documents cost money—not only for the card itself, but also potentially for travel and time away from work.
"On top of that, another 9 to 10 percent of voters who have IDs are nevertheless confused," Unger said. "And this confusion leads to intimidation—and that can lead to eligible citizens being deterred from voting and staying home."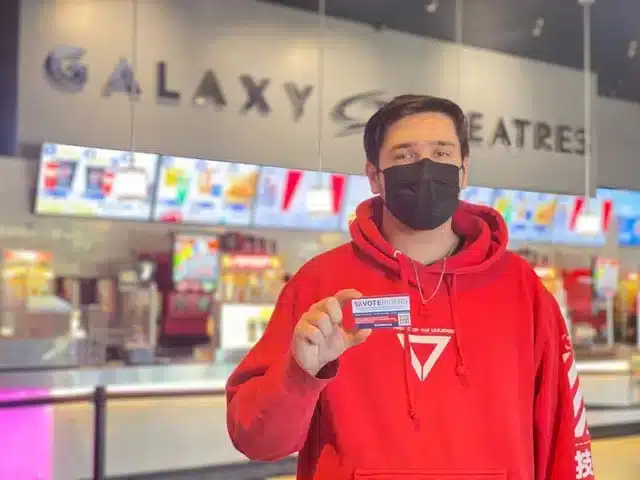 Focusing on Underrepresented Communities
Unger says VoteRiders' impact has grown every year since its founding. In 2022, the organization helped over 1,000 voters per month get the ID needed to allow them to vote in their states, and reached over 7 million voters directly with educational information. They partnered with Uber and Lyft to provide those who needed IDs with transportation to the necessary government offices.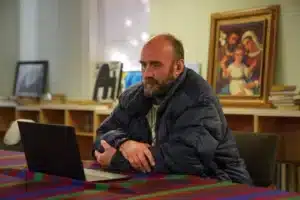 In Detroit, VoteRiders helped a 38-year-old transgender hair stylist obtain an identity card that reflected her changed name.
In Florida, the organization helped a 59-year-old woman displaced by Hurricane Ian get a replacement state ID, and then on Election Day, they helped her return to the polling place where she was registered to vote so she could cast her ballot.
In North Carolina, they helped get state ID for a man whose out-of-state identity card had expired, and who didn't have the necessary paperwork to get a new one.
"We work for everyone nationwide, with a focus on communities we know are already underrepresented in our politics," Kunis said, mentioning voters of color, low-income Americans, disabled, and transgender residents. "We know voter ID laws hit them particularly hard."
For instance, some 43 percent of voting-eligible transgender residents lack identity documents that correctly reflect their name or gender in states that conduct their elections primarily in person, and may face obstacles to voting in person as a result, according to a recent report from the Williams Institute at the University of California, Los Angeles School of Law.
Additionally, a Caltech/MIT study that found voters of color were more frequently questioned about their ID cards than white voters, which raises the question of discriminatory enforcement.
Citizens Helping Citizens
VoteRiders' website includes up-to-date requirements for every state, including information about state requirements for voting by mail.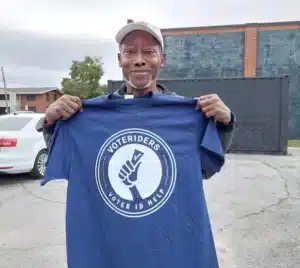 "At its core, VoteRiders is about citizens helping citizens. We are excited about the scalability of our model. At the same time, there are no shortcuts. We have to invest in putting people on the ground year-round," said Unger, who describes herself as a "pro-democracy idealist."
"IDs are almost like a Trojan horse, helping us work with food pantries and shelters, groups that might not be ready to do voter registration but want ID services," said Lauren Kunis. "Working with most marginalized communities, we are growing the electorate with equity."
The Rev. Spencer sees it similarly, if from a slightly different angle.
"The work of VoteRiders allows me to sit with people in crisis," she says. "People who've lost their homes or their families, are emerging from incarceration or overcoming addictions. When you are in crisis, it's a dog-eat-dog world; it's a hard road. This work with VoteRiders is about justice. It is in line with what I'm called to do – as a woman, as a Black woman and as a woman of faith."